How to book a tour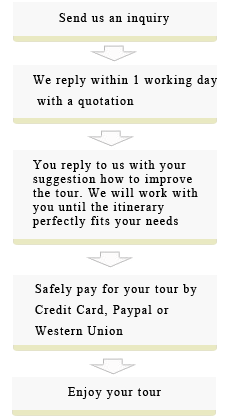 2 days Hangzhou bike tour
Tour code:
bike-tour-hangzhou-01
Duration:
2 days
Route:
Hangzhou
Attractions:
Longjing Tea Village, Hangzhou Botanical Garden, ShanWaiShan, Solitary hill, Zhejiang Provincial Museum, Xiling Seal's Society
Itinerary:
Day 1 Bike ride to Longjing Tea Village
In the morning you will be picked up at your hotel and take a taxi to Public Bicycle Service near by the No.1 Park to rent a bike. we pick up the bicycles, and start the tour.

Our first destinations will be Hangzhou Botanical Garden. You must love the spot because of its unique sightseeing, refreshing air, serene surroundings and beautiful wooded environment. It is the best place for cycling exercises. There are some highlights in the garden, the bamboo section, the ornamental plants section and the Jade Spring.

The lunch will be served in ShanWaiShan (Mountain Beyond Mountain) where the best Hangzhou food is cooked. After lunch, we ride to Longjing Tea plantation which is also known as Dragon Well Tea Plantation to have a nice afternoon tea in the farmer's house. We leave the bikes for a while and climb to the tea field to see how tea farmers pick and cultivate the well-known Longjing Green Tea. Farewell to the tea plantation, we have a free ride back and end the tour.

Day 2 Bike around West Lake
You are going to start your cycling from The No.1 Lakeside Park at the beginning of Nanshan road (South of West Lake). Head to north, during the 30 minute's ride to the Broken Bridge, you will see a lot of local people do morning exercise along the west lake, like Taiji, local dance and so on.

Along with North Inner West Lake through Solitary hill around 30 minutes by cycling to reach the Bai causeway. Here you will be across the famous Broken Bridge where the Chinese Romeo and Juliet happend. Another two bridges along the causeway(Jing Dai bridge and Broken bridge).

Near by the Solitary Hill, you will visit the Zhejiang Provincial Museum, the Autumn Moon over the claml ake whcih is one of the top ten best views of west lake, the Xiling Seal's Society from which you can unstand better about old china, LouWaiLou, the most renowned restaurant in Hangzhou. Take about 1 hour ride, you will be guided to a local resturant have a lunch. In the afternoon you will keep riding tour. It is from north end of the Su causeway to the sounth end. Here you will be across six bridges along the Su causeway to have different views by the bike.