Beijing food gives you an overview over famous local foods and best places for dining in Beijing.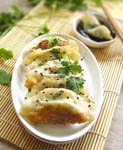 Jiaozi
Jiaozi is the food that will no doubt appear on tables during Spring Festivals. Generally, people prepare it before midnight on the last day of the passing lunar year and eat it after the New Year's bell is sounded.
Jiaozi looks like shoe-shaped gold and silver ingots so when people eat it during festivals they really hope it could bring fortune and good luck to them, and this, of course, is their best wishes. Sometimes people will add some sweets, Chinese dates and chestnuts in fillings of some dumplings to express their wishes. They hope those who get sweets could have a sweeter life. Those who get dates and chestnuts could have babies early, because dates (Zao), are homonymic with early in Chinese, so are chestnuts (Zhenzi). Zi is homonymic with children.


More informations of Jiaozi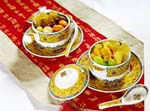 Hongbinlou - Muslim Cuisine
The Hongbinlou Restaurant, which in 1955 moved to Beijing from Tianjin at the request of former Premier Zhou Enlai, is a century-old Muslim restaurant and laozihao (Time Honoured Brand) that serves what have been described as "the best Muslim dishes in Beijing." This has been more than confirmed by the restaurant's loyal following among Beijing's laobaixing (old hundred surnames or common folk), who come for more than just the restaurant's famous fare.
With new restaurants of different styles popping up everyday in Beijing, people are inclined to seek out novelty, but the tried and true menu of the Hongbinlou Restaurant never disappoints its fans. The halls of the restaurant never yield a hollow sound, in part, because in addition to its fine food, Hongbinlou is also associated with the observance of traditional Chinese customs.


More informations of Hongbinlou Restaurant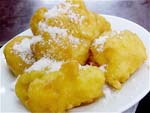 Beijing Snacks
"Old Beijingers" have long-relished two kinds of snacks: bean juice (douzhi) and fried rolls (jiaoquan). Bean juice was produced during the Song Dynasty (960-1279) and is rich in protein, vitamin C, fibre and sugar. It is valued medicinally, because the concoction can reportedly reduce internal heat and toxins. The fried rolls that are always eaten with the bean juice will remain crisp, if stored, for up to ten days.
Since the Liao Dynasty (916-1125), people have eaten niangao, made of sticky rice, on the first day of the year in the lunar calendar. It symbolizes that life in the following years will get better and better.


More informations of Beijing Snacks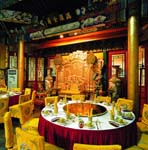 Royal Cuisine
Fangshan Restaurant has carried on and regenerated cuisine of the Royal family of the Qin Dynasty.
Imperial food from the Ming and pre- Ming dynasties has mostly disappeared by today. What has been preserved is the Qing Dynasty imperial cuisine because its cooks passed down their knowledge and skills, and because the palace kept dietetic records. Many famous chefs including Dong Shiguo national class chef serve at the restaurant. With helped by Premier Zhou Enlai, it was relocated from the north bank to Qiong Island of Beihai Park in 1959. Thanks to the leadership of Premier Zhouenlai and other leaders at all kinds levels, the restaurant attaches importance to the traditional culture and excellent service and resumes of over 800 kinds of royal family dishes.
It developed 10 kinds of royal banquet resumes containing Man Han Banquet.The dished at Fangshan are known for their delicacy,pleasing appearance and mild flavor.
To have a meal here, you can not only enjoy the delicious royal cuisine, but also savor magnificent royal gardens.


More informations of Royal Cuisine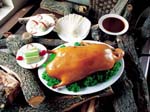 Peking Duck
It is said that eating roast duck in Beijing is like attending a fine symphony. Peking roast duck symbolizes the ancient capital city much in the same way that Coca-Cola evokes an identity with the United States wherever it is served.
For kaoya lovers, an evening at Bianyifang is a treasured experience, where people engage in fine dining, instead of stuffing themselves with microwaved fast foods. You have to be patient to savour a famous Peking roast duck, and it eating should be regarded as a grand occasion.
A proper presentation of the duck is an important part of the evening. You will never see Beijingers digging into a fine roast duck, tearing the leg or wings off with abandon, which is an injustice to the duck and the roast duck tradition.


More informations of Peking Duck Dinner