How to book a tour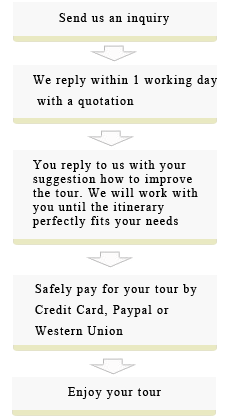 Hakka Earthen Buildings in Yongding and Nanjing
Tour code:
SWCD074
Duration:
2 days
Route:
Xiamen, Huaan, Yongding, Nanjing
Attractions:
Eryi Earthen Building, Zhencheng Tulou, Fuyu Tulou, Rusheng Tulou, Chengqi Tulou, Hegui Tulou
Itinerary:
Day 1 XIAMEN—--HUAAN -- YONGDING
Coach to Huaan(3.5hours) ,visit Eryi Earthen Building Then coach to Yongding.(3hours)
The Hakka Earthen Buildings: Earth houses represent a vernacular architecture specific to Jiangxi, Fujian and Guangdong provinces following the flow of the Hakka people from central China to the South.

Day 2 YONGDING—NANJING--XIAMEN
Tour Yongding Earthen Building Complex— Zhencheng Building , Fuyu Building, Rusheng Building. Chengqi Building. Coach to Nanjing(1.5hours), visit Hegui Building. Coach back to Xiamen.(about 4hours).