How to book a tour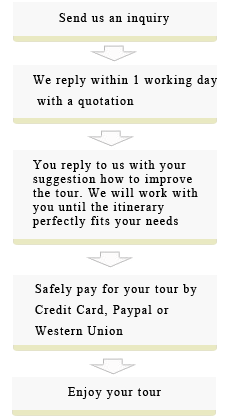 Lusheng Festival in Zhouxi
Tour code:
SPECIAL-GZ-012
Duration:
5 days
Route:
Guiyang, Jichang, Kaili, Leishan, Zhouxi
Attractions:
Jichang village, Zhouxi Lusheng Festival, Miao ethnic in Kaili
Lusheng Festival is one of the most important festivals for ethnic Miao groups in Guizhou Province. This is a colorful courting party replete with exciting bullfights, horse races, Lusheng (a traditional musical instrument) playing, singing contests, costume shows and traditional dancing. The girls in their intricate silver head-dresses and beautiful embroidered costumes flaunt their wealth and beauty to attract their future husbands.
The Lusheng festival in Zhouxi lasts for 1-3 days. You will be there for the best days to witness Lusheng playing, costume shows, dancing and singing. You will be greeted at the festival by Miao girls eager to sing to you and share their plentiful rice wine. Take care to sip very little from each cup, as you may encounter as many as 16-20 cups on your way in!
Itinerary:
D1 Feb 19th Guiyang—Jichang (1.5hr, 120km)
You will be met and welcomed by the guide at Guiyang airport. Today's program highlights is the remaining culture of the old Han (Chinese) ethnic group. The ancestors of these villagers migrated from Jiangxi Province to Guizhou Province in the Ming Dynasty 600 yrars ago. We will drive for 1.5 hours to reach Jichang village. Women here are still dressed in traditional Ming dynasty costumes, and houses remain faithful to the Ming architectural styles. The ancient stone house, lots of legend story, warm-hearted people, and their lovely smile will leave you an unforgettable experience.
After lunch at the village, we will watch a local Ground Opera performance, famed for the performers' symbolic masks, the opera in Jichang dates back to 1382, during the Ming Dynasty. It is said as one of the oldest operas of the world, which is still surviving. Later we will take the afternoon to walk around and explore nearby old Han village, especially visiting the opera mask making. We will drive back to Guiyang this afternoon. (LD)

Stay at Guiyang Sheraton Hotel****/ Stay at Guiyang Regal Hotel****
D2 Feb 20th Guiyang–Kaili (2.5hr, 200km)
Today we drive 2 hours along the mountainous road with beautiful view to Kaili, the capital city of Miiao People. After lunch continue your trip to visit Shiqiao, where we will have a chance to see how local Miao people make paper from mulberry tree in a traditional way, on the way back to Kaili, we stop on the way to see Qingman Miao village which is famous for their Folded-silk felting costumes, and where the Miao people are preparing for the Lusheng Festival held next day. (BLD)

Stay at Kaili Heaven-sent Dragon hotel**** / Stay at Kaili Grand Hotel***

D3 Feb 21st Kaili—Zhouxi (1hour, 40km)
This morning drive to visit the Miao's Lusheng Festival, seeing the girls' traditional costume and silver ornaments. Join the celebration ceremonies, composed of Lusheng dancing, horse racing, rooster fights, and buffalo fights. And it's a good opportunity to learn and joining in the celebrate dancing. Lusheng, Miao people's musical instrument, is a Chinese name for the Miao bamboo pipe and translates as 'reed instrument'. These flutes are most commonly played at festivals related to courtship and are not generally used at religious gatherings. (BLD)

Stay at Kaili Heaven-sent Dragon hotel**** / Stay at Kaili Grand Hotel***

D4 Feb 22nd Kaili—Leishan (50 minutes, 45km)
Today, we will drive 45 minutes to Leishan county, center of the Miao culture
in South-east Guizhou. From Leishan, we will hike for half an hour before we reach Langde Village, which is known for its Long-Skirt Miao, a subgroup of Miao ethnic minority group. After that we drive to Paika and hike in Paika village for 0.5 hour, you may feel as though you are idling along a corridor of landscape paintings of limestone pinnacles set against terraced rice fields and picturesque villages. Visit Lusheng Master for learning the Lusheng Making (Lusheng is the most important music instrument of Miao people). After lunch continue your trip to Datang village of short skirt Miao. It is famous for Miao women's "Mini skirt" and the granary built over the water. Drive back to Kaili. (BLD)

Stay at Kaili Heaven-sent Dragon hotel**** / Stay at Kaili Grand Hotel***
D5 Feb 23rd Kaili–Guiyang (2.5hr, 200km)
This morning we drive 1 hour to visit Wangba, a quiet village inhabited by the Gejia minority, where we will learn about their culture, of which very little is known. The Gejia although classified as Miao are in fact a separate group. Their founder is General Da Sa, probably of Manchu descent. You will see the typical costumes, houses, embroidery and batik making here. After lunch drive to Guiyang airport for your connecting flight, trip ends. (BL)