How to book a tour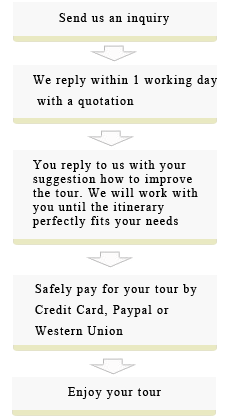 Wuyi Mountain and Hakka Tulou Earthen House Clusters Tour
Tour code:
SWFJ-001
Duration:
5 days
Route:
Wuyi Mountain, Hongkeng, Yongding, Chuxi, Hakka Tulou
Attractions:
Hongkeng Tulou, Chuxi Tulou, Wuyi Mountain
Itinerary:
Day 1
Drive to Hongkeng, Yongding County, the most concentrated of all earthen house clusters. In the aftertoon, drive to Chuxi, Stay overning in val-shaped Hakka Tulou (pubilc toilet, no air-condition, the temperature is pleasant, don't need AC).
Day 2
Explore villages and beautiful eathern houses in Chuxi, drive to Xiamen in the afternoon.
Day 3
Arrival at Wuyishan Railway Station or Wuyishan Airport, met by our English speaking tour guide and transferred to your hotel in Wuyishan National Holiday Resort. Stay at our designated hotel in Wuyishan Holiday Resort.
After lunch, your afternoon tour starts with your drifting down the Nine Bend Stream by bamboo raft! The winding stream spread through the green cliffs, so you can enjoy the elegant scenes on the bamboo raft. The rafts are bamboo rafts with about six seats. You are provided with life jackets. Two drivers use long poles to control the craft down the water. The landscape is fabulous with sheer cliffs and tall mountains. The cruise down all nine bends stream takes 2-3 hours.
After rafting on Nine Bend River lunch, visit Wuyi Palace, the oldest palace in the Wuyi Mountain. Back to your hotel at Wuyishan Holiday Resort.
Day 4
Today'highlight is your hike on Heavenly Tour Peak, known as the First Wonderland of Wuyishan. Climbing up the mountain makes you feel like being in the heaven palace.
After lunch, continue to visit Da Hong Pao (Big Red Robe) and Water Curtain Cave Scenic Area. This magical and charming valley produces the best tea in Wuyishan and is a quite and amazing place. This is an absolute must. Back to your hotel at Wuyishan Holday Resort.
Day 5
Visit Xiamei Ancient Village which takes you back to the Ming (1368-1644) and the Qing (1644-1911) Dynasties. Many of the old buildings are very well kept, a part of the Wuyi Ountains World culture heritage. After lunch. transferred to Wuyi Airport or Railway Station for departure.