How to book a tour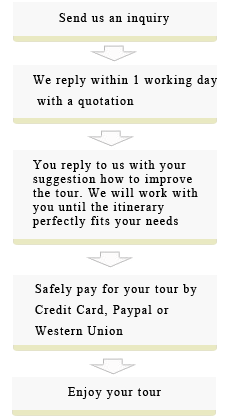 Westen Sichuan Kham Culture Explorer
Tour code:
SWCD072
Duration:
7 days
Route:
Chengdu, Kangding, Yajiang, Litang, Yading, Daocheng, Xiangcheng, Zhongdian
Attractions:
Anjue monastery, Litang, Chang-Qing-Chun-Ke'er-Si monastery, Chenresig, Jambeyang, Chanadorje
Itinerary:
Day1 Arrival / Chengdu
Arrive in Chengdu. Met at the airport. Visit Wuhou temple, the memorial shrine to Zhugeliang- the Prime Minister and Liubei the King of Shu kingdom.

Day 2 Chengdu / Kangding
Drive to Kangding, overnight and sightseeing in Kangding. It is 376Km and 6hrs on the expressway from Chengdu to Kangding While traversing the Western Sichuan Plain, you will arrive at Kangding-the capital city of Ganzi Tibetan Autonomous Prefecture in the afternoon. We can appreciate the idyllic scenery and visit the local people. After dinner, enjoy the hot spring at Erdaoqiao.

Day 3 Kangding / Litang
In the early morning, visit Anjue monastery-the very first Tibetan monastery on this trip, an rare chance to see their morning ceremony per day!

Drive to Litang. Today's journey from Kangding to Litang will take us approximately 5 hours (306km).

At an altitude of just over 4000m, Litang is one of the highest towns in the world (Lhasa is 3700m). Situated high on a grassy plateau, Litang has the feel of a rough and tumble 'Wild West' town. Khampas - dressed in yak skin coats, bedecked in colorful necklaces and hair ornaments, long daggers hanging from their belts - from the surrounding areas amble into town to stock up on food and supplies, play pool on the streets and hang out in the local teahouses. This small town is great for people watching and just strolling around.

We will also visit the famous Chang-Qing-Chun-Ke'er-Si monastery and pay homage to the living Buddha with a personal interview. The monastery here is now home to 1400 Yellow Hat sect monks.

Day 4 Litang / Daocheng / Yading
Today we will reach the highlight of this journey - Yading nature reserve, home of three sacred Tibetan mountains - Chenresig (Avalokitesvara, 6032m), Jambeyang (Manjusri, 5958m), and Chanadorje (Vajrapani, 5958m). Tibetan Buddhists believe that making a kora (pilgrimage) around.

These mountains brings great merit, and that the three mountains represent compassion, wisdom and energy - attributes one must cultivate on the path to enlightenment. The scenery here easily rivals that of national parks of the west such as Yellowstone and Yosemite in terms of spectacular, pristine mountain scenery. The drive from Litang to Daocheng will take approximately 4 hours (180km), and the trip from Daocheng to Yading (60km) will take approximately 3 hours as much of the road to the park is dirt track. We will spend the night in tent hotel.

Day 5 Yading
We will visit beautiful Yading by horseback riding or hiking. From the reserve entrance we will traverse a beautiful wooded pathway leading to a valley set at the foot of the spectacular Mt. Chanadorje.

We'll pass piles of mani stones by the side of the pathway and at the base of the Reserve's most stunning vistas. We'll also visit Tshonggo Gonpa (Chonggu Si in Chinese) - a small Tibetan temple, which Joseph Rock nicknamed 'Bandit Monastery.' (Joseph Rock, a botanist and explorer, conducted extensive explorations of northwest China and Tibet for Harvard's Museum of Comparative Zoology and National Geographic in 1924.)

We will continue our hike to the foot of Mt Chenresig, where we'll ascend a small but steep hill to view a beautiful mountaintop emerald green lake. Local lore has it that this magical lake can reveal your future if you spend a few moments in quiet contemplation by its side. We'll return to the meadow at the foot of Mt. Chanadorje and spend the night in a tent hotel.

Day 6 Yading / Daocheng
We will spend the morning doing a shorter hike or horseride around the reserve. In the afternoon we'll drive back to Daocheng where we'll spend the night.

Day 7 Daocheng / Xiangcheng / Zhongdian
Today we will take a long (5 hours, 290km) but scenic drive to Zhongdian (3,300m, 10,000 ft), a small town on the Tibetan Plateau.