How to book a tour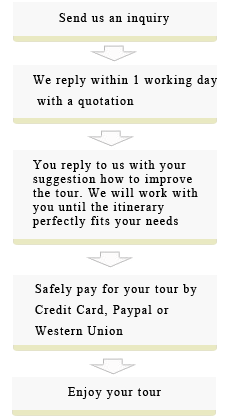 Weekend Inner Mongolia Grassland Cycle Tour
Tour code:
CY-003
Duration:
2 days
Route:
Beijing, Huitengxile
Attractions:
Huitengxile Grassland
Itinerary:
Day 1
We will take an overnight train from Beijing and upon arrival in Inner Mongolian early the morning; a bus will take us to the beautiful Huitengxile grasslands. We will have an easy morning; rest and sleep a little more and have a Mongolian breakfast. We will then hop on mountain bikes and cycle on a nice, quite and hidden trail and we'll pass windmills, beautiful lakes, live cattle stocks, and local villages.
Later there will be a mid-afternoon break at a gorgeous valley called the Yellow Flower Valley; have a great Mongolian-style lunch, walk around the valley, visit a nomadic family, and after lunch, take a nap in a yurt. Later in afternoon, we will cycle back to our tents to watch a horse-riding race and a wrestling competition while we enjoy the sunset. Dinner entrees will include Finger Mutton, roasted lamb, organic Mongolian vegetables. There will be folk music and dancing after dinner or we can grab a few beers, have our own performance and dance around a campfire...
Cycle distance: 40 KM, van-supported

Day 2
Have a late morning, or get up early to enjoy the sunrise. Mongolian horses are the main attraction here and we will have some horseback riding fun after breakfast. You will know how Genghis Khan conquered the whole Asia and part of Europe. You have the option of sitting on the horse, guided by experienced nomads, or riding the horse on your own.
After lunch, lie down on the grassland, take a nap below the blue sky, read a book or drink some more. We will take a bus to the capital city, Hohhot, in the late afternoon, do a bit souvenir shopping or have a foot massage, and enjoy some superb local cuisine in a nicely-decorated restaurant.