How to book a tour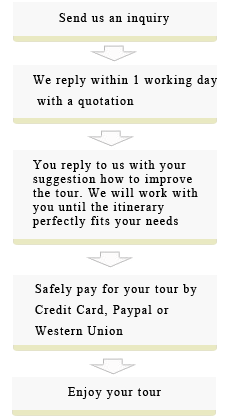 Ancient city of Luoyang and Shaoling Temple tour
Tour code:
CY-006
Duration:
2 days
Route:
Beijing, Luoyang, Shaoling Temple
Attractions:
White horse temple, Dikengyuan cave house, Longmen Grottoes, Shaoling Temple
Itinerary:
Day 1 White horse temple, Dikengyuan cave house, Longmen Grottoes.

Take a night train (21:42PM-07:06AM), arrive in Luoyang next morning, picked up by bus,drive to the UNESCO Site-Grottoes, spanning a length of over 1,000 meters on the hillsides along the Yi River. Today, there are still 2345 caves and niches, 100,000 Buddhist images ranging in size from 2 cm to 17.14 meters; it is reputed as the three greatest stone sculpture treasure houses in China.

Visit to the White Horse Temple, this solemn and tranquil temple covered with green ancient trees is regarded as the "originating court" and the "cradle of Chinese Buddhism" by the Buddhist...

In the afternoon, go to Wangcheng Park and see the blooming colorful peonies.

Day 2 Shaolin temple, Pagoda forest and Kungfu performance
Take the bus to the Shaolin Temple. Founded in AD 495, in honor of an Indian monk called Bodhidharma (known to the Chinese as Da Mo), founder of the Mahayana sect of Buddhism or more popularly known as Chinese Chan (or Zen) Buddhism. This temple is therefore regarded as the birthplace of Chinese Buddhism. Shaolin temple is also famous for its Martial Arts (Kung Fu).

After visit the temple, we will wonder around in the beautiful pagoda forest, which are actually tomb pagodas for eminent monks and abbots of the temple, more than 240 stupas of various size and different architectural styles from different dynasties make it the biggest pagoda forest in China.
Later we will do a small hike, take a small path, walk up one peak nearby Shaolin temple, to visit the Damo cave, where the Damo Buddha have done 3 years meditation. Later enjoy a enjoy a decent and authentic Kungfu performance,

Then take overnight soft sleeper train from Luoyang to Beijing (08:20PM---6:00AM).