How to book a tour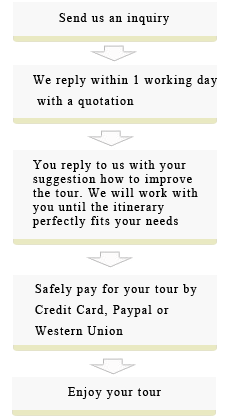 Ancient towns of Tea-horse Road
Tour code:
SWCD075
Duration:
4 days
Route:
Dali, Jianchuan, Shanxi, Yunlong, Weibao
Attractions:
Shideng town, Luodeng village, Weishan, Weibao Mountain
Itinerary:
Day 1 Lijiang-Jianchuan-Shaxi-Jianchuan
In the morning, drive 86km (2 hours) to Jianchuan, another 32km (1 hour) via countryside road to Shiden town, an important town on the ancient Tea-Horse road.
In the aftertoon, visit Sibaoshan Grottoes.
Accommodations: Jiali hotel, Jianchuan

Day 2 Jianchuan-Yunlong (237KM, aboutt 5.5 hours)
Drive to Yunlong county, visit Luoden village, the first village of Bai Ethnic in Dali area.
Accommodations: Yunlong hotel

Day 3 Yunlong-Weishan (250KM, about 5.5 hours)
Drive to Weishan.
Weishan was the capital of Yunnan in Tang Dynasty, the kingdom built by the Bai ethnic in that period was known as Nanzhao. In the Ming and Qing Dynasty (from 1368 to 1911), the local governor of Zuo Family left lots of ancient temples and houses in this area.
In the afternoon, we will visit Weibao Mountain, the birth place of Daoism.
Accommodations: Weishan hotel

Day 4 Weishan-Dali (65KM, about 2.5 hours)
Drive to Dali.