How to book a tour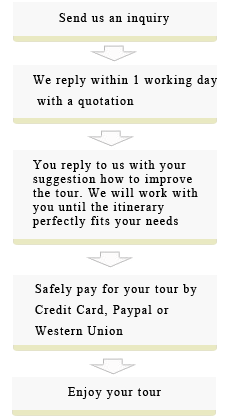 Dragon Boat Festival in Guizhou
Tour code:
Guizhou-061
Duration:
5 days
Route:
Guiyang, Kaili, Shidong, Pingmin, Leishan
Attractions:
Dragon Boat Festival, Qingshui River
Introduction of Dragon Boat Festival :
The Miao dragon boat festival is celebrated on the Qingshui River between 24th and 27th of the fifth lunar month. It is one of the most important celebrations of the Miao people who live in the southeast of Guizhou province. Every year between 30000—40000 Miao people participate in the festival. The origin of this festival is explained by the folk story of Miao hero—Guya, who retaliated and killed the evil dragon.

The Miao dragon boat festival differs from the Han's. They celebrate on the different date (the Han's takes place on the fifth day of the fifth lunar month), and they have different traditions.

There are three dragon boats, one is 17 meters long (mother boat), the other two are 10 meters long (child boat), all the boats are made from fir, each with a carved dragon's head on it's prow. Before the dragon boat sets out, somebody sings an auspicious song to the boatmen, wishing them a bon voyage, the crew row the boat from one village to another, when they approach a village, they fire guns to announce their arrival. The villagers set off firecrackers and go to meet them, and then pleas are made to the dragon to bestow happiness on each community, after lunch, the boats stop ashore alongside the river bank. Pigs, goats, ducks and geese are presented to the crew and headman, the boatmen eat glutinous rice balls and meat on the boats, without the aid of bowls and chopsticks. It is said that after eating food from a dragon-boat, one will be safe from disaster and everything will proceed smoothly.

Horse races and bullfights are held during the festival, families gather on the bank to eat and gossip, when night falls, the young people hold songfests.
Itinerary:
D1 26th Jun. Guiyang – Kaili (2.5 hrs)
Morning Flight to Guiyang. Guizhou is nicknamed 'The Kingdom of Mountains' as 87 % of its land is comprised of mountains and high plateaus. Drive about 2 hours along the scenic mountain road to Kaili, capital of Miao- and Dong Autonomous Prefecture. Visit Kaili Museum, exhibiting all the ethnic custumes of this region.(LD)
Stay at Kaili Heaven-sent Dragon Hotel (****)
D2 27th Jun. Kaili – Shidong (1.5 hr) – Pingmin (0.5 hr)
Today, we head to Shidong in the morning to attend the Miao's Dragon Boat Festival. A 17- meter (56 foot) boot and two 10- meter (33 foot) boats are constructed from fir, each with a carved dragon's head on its prow. The boats are launched and over 40 rowers drink fiery spirits to give them more power. They row to the villages, where pleas are made to the dragon to impart happiness on each community. The villagers present the crew and headman with offering of pigs, goats, ducks, and geese. Families gather on the bank to enjoy the show, eat and gossip. The day concludes with young people sing to each other.(BLD)
Stay at local family house in Pingmin Village
D3 28th Jun. Pingmin – Kaili (2 hrs)
During the second day, the activities continue, spend more time with the local villagers' celebration activities. Or we can hike around the village, enjoying the views of the rice terrace mountains and rivers. Or we can visit the village school in Pingmin, meet local teachers & students. Drive back to Kaili in late afternoon.(BLD)
Stay at Kaili Heaven-sent Dragon Hotel (****)
D4 29th Jun. Kaili – Leishan (1 hr) – Kaili
A short drive from Kaili along the Bala River brings us to the village of Jidao, a real gem full of traditional wooden houses and waterwheels. We have time to stroll around the quiet village before lunch with a local family. After lunch we continue our journey to Paika village to see how the Lusheng - the Miao people's most important musical instrument was made.(BLD)
Stay at Kaili Heaven-sent Dragon Hotel (****)

D5 30th Jun. Kaili – Guiyang (2.5 hrs)
Coach to Guiyang in the morning