How to book a tour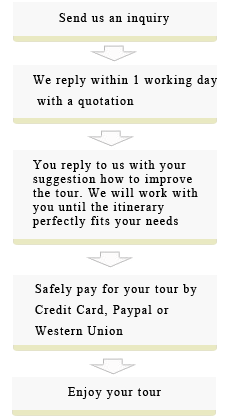 Miao Ethnic New Year Festival in Guizhou
Tour code:
Guizhou-063
Duration:
5 days
Route:
Guiyang, Kaili, Leishan
Attractions:
Miao villages, Miao customs, Miao Music, Miao culture
A major charm of Guizhou for travelers is the Miao Ethnic New Year Festival, resplendent with colour and suffused with music, remains the important part of continuing traditional lifestyles and customs.
Itinerary:
Day1 8th Nov. Guiyang
You will be met and welcomed by the guide in Guiyang Airport. Guizhou is nicknamed 'The Kingdom of Mountains', as 87% of its land is comprised of mountains and plateaus. Visit the Hequn evening market after dinner, it will leave you an impression of Guizhou's most popular and spicy food. (D)
Accommodation: Stay overnight in Guiyang
Day2 9th Nov. Guiyang-- Kaili (220km, 2.5hr)
We will leave Guiyang in the morning to drive 2.5 hours along the scenic mountain roads to Kaili. In the local market, you will find lots of interest things for your camera. Pay a visit to the Kaili Museum, it will leave you an overall view of the ethnic costume in Guizhou. (BLD)
Accommodation: Stay overnight in Kaili
Day3 10th Nov. Kaili—Leishan (65km, 1hr)
Visit the Miao's New Year Festival, seeing the girls' traditional costume and silver ornaments. Join the celebration ceremonies, composed of Lusheng dancing, horse racing, rooster fights, and buffalo fights, and it's a good opportunity to learn and joining in the celebrate dancing. (BLD)
Stay in local village (with clean bed sheet)
Day4 11th Nov. Leishan—Kaili (65km, 1hr)
Today, we will continue to feel the local life. We can try how to make the Miao's musical instrument---Lusheng, or try to do farm work (not heavy work) in the fields in the morning. Drive back to Kaili in the afternoon. (BLD)
Accommodation: Stay overnight in Kaili
Day5 12th Nov. Kaili—Guiyang airport (220km, 2.5hr)
Transfer to Kaili Long Distance Bus Station. Take shuttle bus to Guiyang airport.