How to book a tour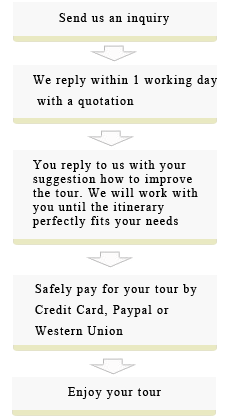 Sister's Meal Festival in April
Tour code:
Guizhou-064
Duration:
5 days
Route:
Guiyang, Kaili, Shidong, Zhenyuan
Attractions:
Sisters Meal Festival in Shidong, Zhenyuan old town
Experience the Sister's Meal Festival in April. Families of Miao Ethnic dress up to show their beautiful daughters by the bank of Qingshui River for three days' activities. Singing, dancing and candle night party every night. The top 10 girls will be known all over the whole Miao area, and splendid future might be waiting for her ever since now...We come back to this festival again and again every year!
Itinerary:
Day 1 17th Apr. Guiyang–Kaili
Pickup from Guiyang airport. Drive 2.5 hours along the scenic mountain roads to Kaili. Pay a visit to the Kaili museum; it will leave you an overall view of the ethnic costume in Guizhou. This afternoon we will drive to visit Shiqiao, where we will have a chance to see how local people make paper from mulberry tree in a traditional way, on the way back to Kaili, we stop on the way to see Qingman Miao village which is famous for their Folded-silk felting costumes. (BLD)
Stay at Kaili Heaven-sent Dragon hotel****
Day 2 18th Apr. Kaili-Shidong-Zhenyuan
This morning we drive 1 hour to visit Wangba, a quiet village inhabited by the Gejia minority, where we will learn about their culture, of which very little is known. The Gejia although classified as Miao are in fact a separate group. Their founder is General Da Sa, probably of Manchu descent. We will spend the whole afternoon to enjoy festival activities in Shidong. The Sister's Meal Festival is a time when young Miao people gather together and try to win over the hearts of their loved ones, the highlight of the festival is local girl's spectacular costumes. A few days before the festival, girls in the Shidong area flock to the mountains to collect wild flowers and berries to dye the glutinous rice known as 'sisters' rice' - a favorite snack during the festival. Each girl prepares her rice with a symbol inside and then wraps it in a handkerchief. Young people from several villages gather together, the girls beautifully dressed in their embroidered costumes and elaborate silver headdresses. Between dances and songs, each girl will give her special "sister's rice" to the young man of her desire. The symbols hidden inside the rice will reveal the girl's true feelings for her intended. Thus, the Sister's Meal Festival has been nicknamed the Miao people's "Valentine's Day." (BLD)
Stay at Zhenyuan Tiexi Resort *** (best available)
Day 3 19th Apr. Zhenyuan-Kaili
This morning we will explore the old town of Zhenyuan and Fu's house which used to be the richest family back in Qing Dynasty. Furnitures here were all being well preserved. Later we visit The Black Dragon Cave, an architecture complex of Buddhism, Taoism and Confucius. Afterwards we will take an easy hike in Tiexi, a stunning valley with crystal clear water, green trees and fresh air. We will be back in Kaili in late afternoon. (BLD)
Stay at Kaili Heaven-sent Dragon hotel****
Day 4 20th Apr. Kaili
Today we drive to Xijiang, the biggest Miao village known for long-skirt Miao, wooden houses were built from the foot to the top of the hill. Then continue our journey to Paika village, know more about Lusheng — the Miao people's most important musical instrument. Afterwards we visit Datang, a Miao village with an aquatic granary and the women's "Mini skirt". (BLD)
Stay at Kaili Heaven-sent Dragon hotel****
Day 5 21st Apr. Kaili-Guiyang
Drive to Guiyang airport and leave, Trip ends. (B)