How to book a tour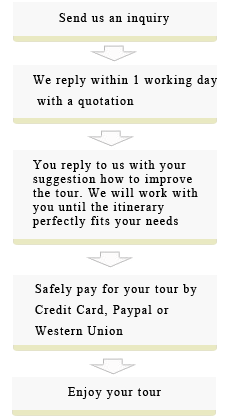 Villages in Guizhou and Guangxi
Tour code:
Guizhou-066
Duration:
7 days
Route:
Guiyang, Kaili, Wugao, Xijiang, Rongjiang, Congjiang, Sanjiang, Chengyang, Longsheng, Yangshuo
Attractions:
villages in Guizhou, longsheng rice terraces, biking in Yangshuo, etc
Itinerary:
D1 Guiyang-Kaili
You will be met and welcomed by the driver in Guiyang airport (Early flight). Guizhou is nicknamed 'The Kingdom of Mountains', as 87% of its land is comprised of mountains and plateaus. Drive 3 hours along the scenic mountain roads to visit Wangba, a quiet village inhabited by the Gejia minority, where we will learn about their culture, of which very little is known. The Gejia although classified as Miao are in fact a separate group. Their founder is General Da Sa, probably of Manchu descent. (Warm up hiking available here from lower Wangba to upper Wangba, you can hire a local villager to guide you the hike) (LD)
Stay overnight at Kaili Grand Hotel ***
D2 Kaili-Wugao-Xijiang-Rongjiang
A short drive from Kaili along the Bala River will take us to Jiaogao village, from here you can hike (with sandals) 1.5-2 hours along the crystal clear stream to Wugao Miao village which was inhabited by Long-skirt Miao people (you can hire a local villager to guide you the hike). Meet your driver here and drive 1 hour to Xijiang, the biggest Miao village in China, wooden dwellings were built from the foot to the top of the hill. After lunch we continue our journey to Datang, a Miao village with an aquatic granary and the women's "Mini skirt". Afterwards we drive 4 hours to get over Mt Leigong till Rongjiang was reached. (BLD)
Stay overnight at Rongjiang DongxiangmiGrand Hotel ***

D3 Rongjiang-Congjiang-Zhaoxing
This morning we will drive 2 hours along the picturesque Duliu River to Congjiang, visit Basha, a small Miao village with very little signs of modern influence. The people rarely venture out of the village except for selling firewood and shopping for daily necessities in markets, and both men and women can be seen in traditional costumes, wearing their hair long. A 2-hour drive will take us to Zhaoxing, one of the largest Dong villages in the region, with more than 700 households and a population of 4000. The Dong can be recognized by their turbans (for men), and pleated skirts (for women). They are also known for their architecture, particularly their drum towers, and Feng yuqiao (or Wind and Rain Bridges), which are pavilions for sheltering people during bad weather. (BLD)
Stay overnight at Zhaoxing hotel *** (very charming hotel)
D4 Zhaoxing-Sanjiang-Longsheng
Today is a long day for us, we first start with hiking around Zhaoxing (Tang'an or Jitang, 1-2 hours, you can hire a local villager to guide you the hike), then you will continue your journey south into Guangxi Province. Sanjiang in Guangxi province, a village inhabited by the South Dong, one of the two subgroups of the Dong ethnic minority. A short drive away from Sanjiang will take us to Chengyang, a quaint little village with one of the largest Fengyuqiaos (Wind-and-rain Bridge) in the region. Here we will explore the villages on foot, visiting lively markets and hillside farms. Drive 1.5 more hours to Ping'an village around Longsheng, where the mountains are covered with terraced rice fields, some of them reaching up to 1,000 m (3,300 ft) peaks. (BLD)
Stay overnight at Ping'an hotel **
D5 Longsheng-Yangshuo
This morning we will enjoy or hiking around rice terraces (Ping'an or Jinkeng, optional 1-5 hours hike, you can hire a local villager to guide you the hike). We will drive 3 hours (200km) to Yangshuo after lunch. (BLD)
Accommodation: Stay overnight in Yangshuo
Day6 Yangshuo
We will have a full day to explore the beautiful countryside. Take 40 minute bus to the Yangdi Village. Walk 3 hours along Li River to Xingping Village. Along the way you witness scenes that transported us back in time; farmers walking their Water Buffalo along the river's edge, every turn of the trail begins a magnificent view. After you arrive at Xingping Village in the afternoon, take public bus back to Yangshuo.
Accommodation: Stay overnight in Yangshuo
Day7 Yangshuo / Depart
In the early morning, cycle from Yangshuo to Gaotian in the early morning, you will arrive at the Licun village and then you might climbe up the Moon Hill for a panoramic view of the beautiful rice paddies and mountians. The bike ride 2 hours round trip and the climb is 2 hours up and down. Transfer to airport by taxi.