How to book a tour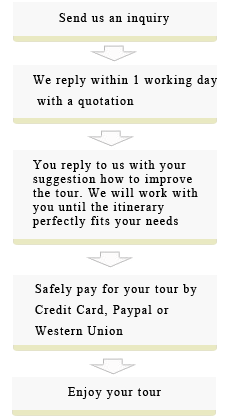 Pingyao and Wang Family Mansion Tour
Tour code:
CY005
Duration:
2 days
Route:
Beijing, Zhangbi, Pingyao
Attractions:
Zhangbi village, Courtyand of Wang Family, Pingyao old town, Shuangling Temple
Itinerary:
Day 1 Zhangbi Fortress and Courtyard of Wang Family
We will take a night train to Pingyao, arrive next morning, picked up by our local guide, then drive to an interesting village called Zhangbi, with visible city walls left and tens of km of underground tunnel, this place was used to be a strategic military point dating back to Tang dynasty, 600 AD. And it is a recently discovered treasure, which is off the tourists trail. We will walk around in the 1.5 millennium old city, try to find pieces of history while checking the local villagers' life, later explore the underground tunnel which was suppose for military use.

Later we will drive to the largest and best preserved courtyard house-courtyard of Wang family (Wangjia Dayuan), constructed during 1762-1811 by a rich Shanxi merchant family. A huge private palace, built along the slope of the mountain, very good Fengshui. Unlike other famous courtyard house, this one has been kept intact and real, no restoration, no exhibition of unreal folk and custom stuff, wondering in the hundred years old house, listen to the guide elaborating the story of the family. Later on take a look of the village nearby, there are also some old cave houses, a typical residential architecture in the yellow soil plain area, which are used for peasants living in old time but now ordinary villagers live in, rural people, old house, very real China.

We will get to the ancient city of Ping Yao in the late afternoon, stay overnight in a lovely hundred years old courtyard guesthouse.

Day 2 Pingyao City
Ping Yao is an exceptionally well-preserved ancient city, founded in the 14th century, and it used to be the major financial centre for the whole of China in the 19th and early 20th centuries. There are still more than 4000 old houses in the city, we will check out the biggest private bank in China, an old county government office courtyard, a live demonstration of local administration procedure, then a pawn shop and an old security company.

Another good part of the old city is the food, so many delicious local cuisines, very different from the popular foods in Beijing, of cause we will try as more as we can.

Spend the afternoon do a leisure bike ride in the back lanes of the city, check out some hidden places, meet local peoples, later bike to a interesting temple called Shuanglin temple, which is a Buddhist temple with a long history. Inside the temple are more than two-thousand painted sculptures which arts are of precious value. They are reputed as a treasure reserve of the oriental painted sculptures. Later cycle back to Pingyao city, after a nice , embark on the train back to Beijing.

Extended trip to Xian from here is also available (one night train), inquiry us if you are interested.