How to book a tour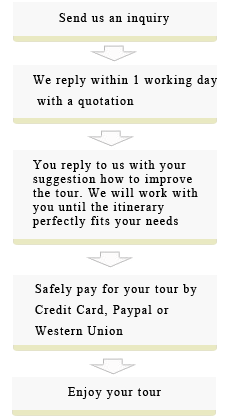 Magical Grassland Tour in Aba
Tour code:
Sichuan-071
Duration:
4 days
Route:
Chengdu, Dujiangyan, Wenchuan, Lixian, Hongyuan, Lake of Flower, Tangke, Miyaluo, Gu'er Valley, Taoping
Attractions:
First bend of Yellow River, grassland in Hongyuan, Gu'er Valley, Taoping Qiang Ethnic Village
Itinerary:
Day1 Chengdu-Dujiangyan-Wenchuan-Lixian-Hongyuan
Meet at the starting point of Chengdu-Dujiangyan Expressway, Drive to Hongyaun along Dujiangyan & Wenchuan. You may amazed by the beautiful landscape and will be shocked by the site of earthquake in Yingxiu &Wenchuan. Upon arrival in Hongyuan, stay at 2* Hongyuan Hotel.
Day 2 Hongyuan-Lake of Flower-Tangke
Today's journey must be the highlight: grassland, Tibetan Monastery, breath-taking landscape, pure Tibetan pastoralists… You may enjoy the spectacular dazzling sunset at the first bend of Yellow River at the Sichuan & Gansu border. Stay at Tangke.
Day 3 Tangke-Miyaluo-Gu'er Valley
Drive to Gu'er Alley after breakfast,Enjoy the beautiful landscape again on the way. Upon arrival at Gu'er Alley, enjoy the hot spring after dinner.

Day 4 Gu'er Valley-Taoping-Chengdu
Drive back to Chengdu after breakfast. You will make a stop and pay a visit a Qiang Village at Taoping. For sure, you will learn much more about Qiang's culture and customs through the visit. Maybe, you will find out a secret…..