How to book a tour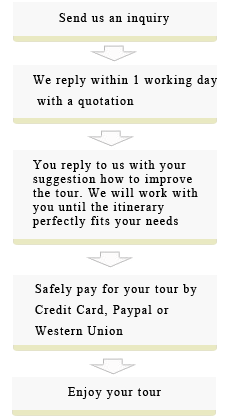 Rice Paddies south of Kunming
Tour code:
SWCD076
Duration:
5 days
Route:
Kunming, Puzhehei, Mile, Yuanyang
Attractions:
Puzhehei Nature Reserve, Duoyi, Bada, Qikou, Tiger Mouth, Mengping rice terraces
Itinerary:
Day 1 Kuming - Puzhehei (286km, about 5 hours)
Drive to Puzhehei, it is a small town in Wenshan county, located in the eat of Kunming.
Accommodation: Puzhehei Resort ( 3 star)

Day 2 Puzhehei- Mile (150km, about 3 hours)
Take wooden boat ride and trekking tour in Puzhehei Nature Reserve, visit limestone caves and Yi Ethnic Culture Village. In the afternoon, drive 3 hours to Mile. Free time at leisure in hot springs at night.
Puzhehei Nature Reserve: a big area of 16 lakes and dozens of mountains, large water areas of lotus and water lily.
Accommodation: Mile Jinding hotel ( 4 star)

Day 3 Mile - Yuanyang (300km, about 6 hours)
Drive to Yuanyang.
Accommodation: Yuanyang Yunti Hotel ( 3 star)
Day 4 Yuanyang
Get up at 4am, breakfast box has been prepared, first we drive 28km to Duoyi county, hike 30 minute to the mountain top, wait for the view of splendid sun rise. Then we will visit the morning market of Hani Ethnic village. Continue to drive to Bada rice paddies, the sharp cliff here makes Bada the name of most dangerous rice terraces in Yunyang.
In the afternoon, visit Qikou rice terraces. We will hike along the local trails in Qikou Hani Ethnic Custom Village, it is a small village famous for her beautiful surroundings and unique architecture. Then we will drive 24km to Mengping rice terraces, take photos at Tiger Mouth.
Mengping rice terraces: it is consisted by 3 large areas of Tiger Mouth rice terraces, Amengkong rice terraces and Baoshanzai rice terraces. The best location of taking a good photo differs from month to month, when the sun comes out from different angle. Ask your tour guide one day prior. They know this place well.
Accommodation: Yuanyang Yunti Hotel ( 3 star)

Day 5 Yuanyang - Kunming (326km, about 7 hours)
Drive to Kunming.

Accommodation: Kunming Hotel ( 4 star)