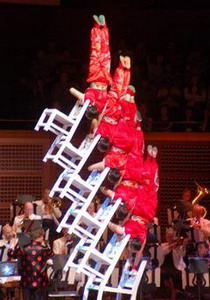 In Beijing one can see breath-holding acrobatics, some of which can be so demanding in the timing and balancing skill as to verge on the impossible. I have seen, with great amazement, an acrobat balancing on a mono-cycle, with two hands holding some objects, and using his teeth to bite on a plate containing five faced down bowls, he flipped the bowls to face upwards, then proceeded to use his foot to flip five spoons accurately into the bowls.
The best Acrobatic show in Beijing is the show at Chaoyang Theatre. It is one entertainment that must not be missed by the young and old on a visit to Beijing.
Where: No.36.North Dongsanhuan Chaoyang Districet.,Beijing
( Take metro line 10, get off at Hujialou Station, exit C)
When: 7:30pm, usually seven nights a week
Chaoyang Theatre is a two-storied building with 23 rows in the first floor. The first floor of the theatre can accommodate over 800 people and the second floor has a capacity of housing 598 people.
Book acrobatic ticket online: Chaoyang Theatre + one way hotel/airport trnasfer
One cannot believe such feats unless seen with one's own eyes. The group bicycling show is also a favorite with the ten cycling girls finally all ending up on a bicycle with their fans spread out like a peacock. There are also girl performers so spineless that they can bend and fold their bodies to a position where the feet clasped the face and the head and hands are still balancing some glasses. Other exciting acts are the juggling of large porcelain urns, martial arts, balancing of bowls, umbrellas or stacked chairs, rope walking, pole climbing, roller skating and plate swirling.