How to book a tour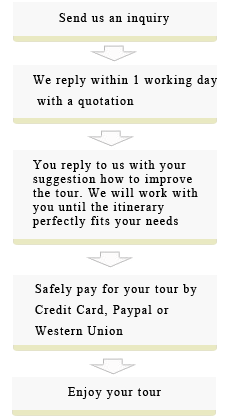 One day Li River Cruise, one day Yangshuo
Tour code: GY003
Duration: 2 days
Route: Guilin, Li River, Yangshuo
Attractions: Enjoy some local rice noodle for your breakfast and wait for your tour guide and tour coach. Tracsferred to Zhujiang dock to start your boat journey, cruise ride to Yangshuo for 4 hours, have fun on West Street, enjoy the evening show, cycle for 2 hours in Yangshuo countryside.
Itinerary:
Day 1 Guangzhou / Guilin / Li River Cruise (L)
Transfer via: by train-own arrangement
Take train K36/37 at 20:00 from Guangzhou Railway Station and arrive Guilin Railway Station at 06:45.
After you have bought your train ticket, make a telephone call to our online Event Manager, then he / she will reserve the ticket for Li River Cruise, hotel accommodation for you. Remember to call before you leave Guangzhou! Don't wake us up in the early morning to say that you are arriving in 15 minutes! (It happens before).
After you arrive at Guilin, walk to XinKaiYue Hotel which is right across the main street, a significant landmark in the city, view the exterior of the hotel here. Go to the Front Desk and show the hotel staff this small card which you have printed or written down in Guangzhou. Ask hotel staff to make a local telephone for you, just to tell us that you have arrived. 
Join-in tour available everyday, pickup from XinKaiYue Hotel at about 8:20 am. You can try some local rice noodle for your breakfast and wait for your tour guide and tour coach to show up at the lobby of Xinkaiyue Hotel. You will be transferred to Zhujiang dock to start your boat journey. Cruise ride for 4 hours, Chinese lunch will be served en route. You will arrive Yangshuo at 14:00. The cost for today is USD 71 per person.
Our tour guide will pick you up at the dock of Yangshuo, and take you to the hotel. You can also stay in the family inn which is running by one of our tour guides' family. Own arrangement for the rest of the day. You might walk around the local fruit and vegetable market, seeping your beer on West Street, watching colorful activities of local people.
Yangshuo, the natural scenery features unique karst hills, crystal water, exquisite stones and intricate caves as well as a cultural historic heritage and folks of diverse customs. At night, have fun on the West Street, don't drink too much to miss tomorrow's program.  Or you can go to watch the evening show - Impression Liu Sanjie (optional). The Cormorant Bird catching fish show at night is also something new (optional).
(If your train delays, you might not be able to catch up the cruise in the morning, then we will recommend you vist some caves, mountains and historical relics in Guilin this day, and go to the cruise on the second day; Or you might take the Long Distance Bus for one hour by yourself to be transferred to Yangshuo and take a bike ride to countryside)
Day 2 Yangshuo / Depart
Transfer via: by train-own arrangement
From 6:30 to 9:00 am, cycle for 2 hours from Yangshuo to Aishan Village in the early morning, you will arrive at the Licun village and then you continue you bike ride on the trails to Yangshuo. After a hot shower in the hotel, you will be transfer by company vehicle to take bamboo rafting for two hours on Yulong River through limestone mountains and trails.
Later in the afternoon you will be transferred to Downtown Guilin by Tour Bus. The same bus that took you from Guilin to Zhujinag Dock on the 1st day! In fact, it picks up passengers after Li River Cruise from Yangshuo to Guilin every day, and the time leave Yangshuo is 15:00 pm.
 
The cost for today is USD 69 per person.
Tips: When you finish Li River Cruise on the 1st day, ask you tour guide and write down the license number of the tour bus, follow your tour guide to the place where it parks everyday, register with the tour guide for next day's pick up.
If you want to have more time to discover Yangshuo today, you might have to go to Guilin by your own arrangement. The optional cost for transfer by taxi is RMB 250-300, you might take public bus, the ticket cost RMB 13 per person, and the bus leave Yangshuo in every 20 minutes from Yangshuo to Guilin.
Total package cost is included of Li River Cruise Guilin/Yangshuo, 2 days Chinese lunch, bike ride, rafting and public bus transfer Yangshuo/Guilin railway station. The hotel accommodation is extra. Kindly remind you that the tipping for good service of our local guide is highly appreciated. Please read our tipping policy.
Service ends.