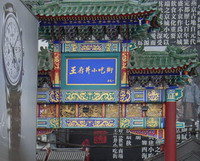 Wangfujing Street
Wangfujing Street is the most famous shopping street and it is now considered to be the central heart of the city. It is a fairly long and it considered to be the most longest pedestrian street in China. A walk from end to end would take you around 30 minutes, and that's without looking at any shops.


More informations of Wangfujing Street
Liulichang Street
Liulichang Street is known throughout China and the world for its antiques real and fake, old and new. The ambiance was like old China. Here you can find curios, ancient books, calligraphy, paintings, rubbings, ink stones and ink. If you are interested in Chinese antiques, Liulichang Street of Chinese culture is a must when you travel in Beijing.


More informations of Liulichang Street
Dashilan Street
Dashilan is the oldest and perhaps one of Beijing's most fascinating streets to explore. Dashilan literally means "big fence". If the Forbidden City has been a capsule of China's royal culture since the Ming Dynasty (1368 - 1644), then the Dashilan area in Qianmen is that of grassroots culture over the same period.


More informations of Dashilan Street
Xiushui Street
Xiushui Street is one of the famous clothing markets in Beijing. It attracts domestic and foreign tourists with varied styles, colors and materials as well as a cheap price. You can find a number of duplicates of clothing in traditional Chinese style such as clothes, caps, gloves. Enjoy bargains with sellers and pleasant surprise of finding a real treasure if you are lucky enough. Now, Xiushui Street is in reconstruction.
Xiushui Street used to be a wholesale market where businessmen from Eastern European countries purchased clothes, and all business was conducted in English and Russian. Today, the street is a tourist spot where people speaking many languages go shopping, both wholesale and retail.


More informations of Xiushui Street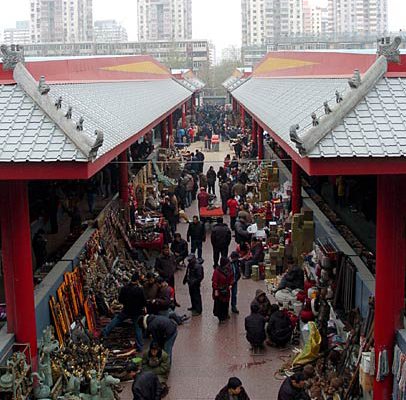 Panjiayuan Antique Market
Panjiayuan Antique Market is a holiday market engaged in sales of folk antiques and handicrafts, named as "the market with the most diversified collections" and "the largest collecting and distributing center of handicrafts ". Panjiayuan Antique market takes up an area of more than 50 hectares with 3000 booths and nearly 10,000 employees, selling all kinds of folk antiques, handicrafts and second-hands. The market attracts 40,000 to 50,000 tourists per day.


More informations of Panjiayuan Street
Liang Ma antique collection market
Liang Ma antique collection market has been established in 1992. Located between the east third and fourth ring. It is closed to the third embassy area. There are a lot of foreign business company and their office set here. The market area occupied 5000square meters. In the market you can find porcelain. Jade Ware, clocks, Old camera, Chinese characters. Chinese Paintings, antique furniture, house decoration items. The secretary of UN Mr.Annan once came here.
Hongqiao Pearl Market
It is famous for its pearl and fresh seafood etc.
Add: East Road of the Temple of Heaven, Chongwen District
Pearl is the speciality of this market. These are sweet water pear from southern China provinces. These girls are very skillful and doing things very quick. They can re-make the pear necklace/bracelet as the design you like. Just tell them what you want!
The quality is not bad general speaking, people like to bring them back to their country for the cheap price and not bad quality . It's the perfect gift from China...


More informations of Hongqiao Street
Xidan Shopping Center
It is a shopping center with lots of big department stores, shopping malls and restaurants, most of the customers are local Chinese, a reasonable price shopping place in Beijing.


More informations of Xidan Shopping Center
Next page

Beijing Transportation