How to book a tour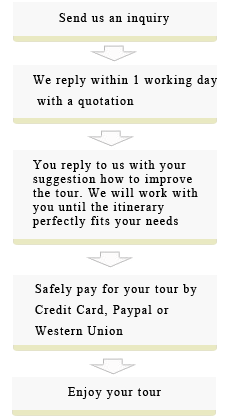 Canton Fair Interval Program - Beijing Trip
Tour code: CFP013
Duration: 5 days
Route: Guangzhou, Beijing
Attractions: Enjoy Beijing Roasted Duck, visit Forbidden City, Badaling Great Wall and Hutong tour.
Itinerary:
Day 1 Guangzhou / Beijing
Transfer via: by air
Be met at your hotel in Guangzhou, transferred to airport for your flight to Beijing. Upon arrival at Beijing airport, you will be met by our English speaking tour guide and transferred to hotel. Leisure on your own for the rest of the day.
Day 2 Beijing (B, L, D)
Visit Forbidden City, Tiananmen Square, Summer Palace, enjoy Beijing Roasted Duck for dinner.
TianAnMen Square, the symbolical heart of China and gathering place for the masses. It is the biggest public square in the world, which can hold one million people. Having a free walk there, imagining the great historic events of the 20th century took place there. You will also see legendary landmarks including the Great Hall of the People and the towering 125 foot granite obelisk, Monument to the Peoples Heroes, honoring those who died in revolution.
Walking across the Golden River Bridge, enter the Forbidden City, the inner sanctum and palace where for centuries Chinese emperors ruled their world. It has 9000-room maze of courtyards, places, and ceremonial halls, where 24 emperors used to live. Forbidden City was indeed a forbidden place, where commoners were kept out for nearly 500 years in the past. Tour the palace and imagine the mystery, intrigue and incredible power that reigned here.
Day 3 Beijing (B, L, D)
Badaling Great Wall, Ming Tomb
The Badaling Great Wall is situated in the northwestern Beijing. It has been a communication center of strategic importance since ancient times. It was built in 1378 and was named by the 8 mountains where the Wall was buit. The surrounding wall runs over 2 kilometres with one gate on each of its three sides-east,north and south. It has been a strategic place contested by militarists since ancient times.
The 25-kilometer-long Badaling Ridge section has as many as 120 watchtowers and battlements,terraces and turrets. Architecturally, there are towers of various shapes--square, circular, oblate and cornered, and roofs of different strctures --flat and vaulted.
In the afternoon you will visited Ming Tombs where the Chinese Emperor dreamed to continue there eternal life after death.   At night, enjoy Beijing Opera.
Day 4  Beijing (B, L, D)
Temple of Heaven, Hutong, local family visit. 
The Temple of Heaven, founded in the first half of the 15th century, is a dignified complex of fine cult buildings set in gardens and surrounded by historic pine woods. In its overall layout and that of its individual buildings, it symbolizes the relationship between earth and heaven, or between the human world and God's world which stands at the heart of Chinese cosmogony, and also the special role played by the emperors within that relationship.
A jaunt down the intricate maze of Beijing's hutongs. You will be taken by pedicab (a tricycle cab), which was very popular in the old days to visit the Bell and Drum Towers, Prince Gong's Mansion and even to pay a visit to an ordinary Beijing family in the compound houses. You will visit a Chinese family to learn how to make Jiaozi - Chinese Dumplin.
Jiaozi looks like shoe-shaped gold and silver ingots so when people eat it during festivals they really hope it could bring fortune and good luck to them, and this, of course, is their best wishes. Sometimes people will add some sweets, Chinese dates and chestnuts in fillings of some dumplings to express their wishes...
Day 5 Beijing / Guangzhou (B)
Transfer via: by air
Free time till to transfer to airport for your flight to Guangzhou. Be met and transferred to your hotel in Guangzhou.
Service ends.