How to book a tour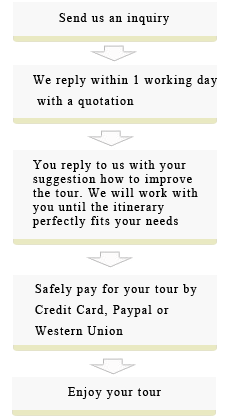 Beijing Discovery Tour
Tour code: beijing 017
Duration: 5 days
Route: Beijing
Attractions: In four days you will see many human wonders like the Great Wall-most famous image of China throughout the world. It is the only man made object visible from the moon. Visiting museums is the best way to better understand the place you are exploring, you may go to the Forbidden City and the Temple of Heaven, ect.
Itinerary:
Day 1 Arrive / Beijing (L)
Transfer via: by air-own arrangement 
Arrive at Beijing. Be met & transferred to your hotel. Have city tour to the Summer Palace.
Day 2 Beijing (B,L)
Full day trip to the Tian'anmen Square, the Forbidden City, and  Enjoy the Peking opera Show in the evening.
The Summer Palace is the largest and best-preserved royal garden in China with a history of over 800 years. With its cool features - water, gardens and hills, it was the palace of choice for vacationing emperors and Dowager Empresses. It was badly damaged by Anglo-French troops during the Second Opium War (1860) and its restoration became a pet project of Empress Dowager Cixi, the last of the Qing dynasty rulers.
Peking Opera or Beijing Opera is a synthesis of stylized action, singing, dialogue and mime, acrobatic fighting and dancing to represent a story or depict different characters and their feelings of gladness, anger, sorrow, happiness, surprise, fear and sadness.
Day 3 Bejing (B,L,D)
The Great Wall Tour, The Ming Tombs (changling), enjoy Peking roast duck for your dinner.
The Great Wall of China is the longest structure ever built. It is about 4,000 miles long, and it was built entirely by hand. About 1, 200 - 1, 500 miles of the Great Wall were built during the reign of Emperor Shi Huangdi (Qin Dynasty). The Great Wall crosses northern China from the east coast to the central part of China.
Visit the fabled Ming Tombs, the resting places of thirteen emperors and their splendid treasures, passing down the Spirit Way, a road lined with statues of dignitaries, as well as huge elephants, lions, camels and horses, you will encounter the marble tombs of the Ming Dynasty emperors. Visit one of the spectacular tombs- Dingling featuring an underground palace.
Day 4 Beijing (B,L)
Visit the Temple of Heaven, Lhama Temple, Pearl Market, Hutong Tour.
Lama Temple (Yonghegong or also known as lama temple) is a renowned lama temple of the Yellow Hat Sect of Lamaism, is situated in the northeast part of Beijing city. Lama Temple, or Yanghegong, has a long and varied history. It was originally built in 1694 and originally used as official residence for court eunuchs of the Ming dynasty.
Free time at Pearl Market for shopping. Visit Hutong, the ancient civilian district in Beijing.
Day 5 Beijing / Exit (B)
Transfer via: by air-own arrangement
Be transferred to Beijing airport and fly to your next destination.
Service ends.