How to book a tour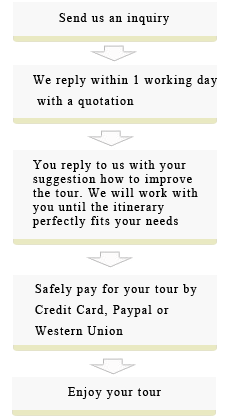 Train Voyage Beijing-Guilin
Tour code: Beijing 032
Duration: 7 days
Route: Beijing, Guilin, Beijing
Attractions: This is a China tour specifically designed for people who are interested in Chinese history, and who appreciate amazing natural beauty and landscapes. You can experience China's past and present in Beijing, and witness how bizarre and beautiful nature can be by visiting picturesque Guilin's Karst topography. Overnight train to Guilin and cycling along Yangshuo countryside are the highlights.
Itinerary:
Day 1 Arrive / Beijing
Transfer via: by flight-on your arrangement
Arrive at Beijing. Be met & transferred to your hotel. Free at leisure for the rest of the day.
Day 2 Beijing (B,L)
Visit the Forbidden City, Tian'anmen Square and Summer Palace and Temple of Heaven.
Tian'anmen Square, the symbolical heart of China and gathering place for the masses. It is the biggest public square in the world, which can hold one million people. Having a free walk there, imagining the great historic events of the 20th century took place there. You will also see legendary landmarks including the Great Hall of the People and the towering 125 foot granite obelisk, Monument to the Peoples Heroes, honoring those who died in revolution.
Walking across the Golden River Bridge, enter the Forbidden City, the inner sanctum and palace where for centuries Chinese emperors ruled their world. It has 9000-room maze of courtyards, places, and ceremonial halls, where 24 emperors used to live. Forbidden City was indeed a forbidden place, where commoners were kept out for nearly 500 years in the past. Tour the palace and imagine the mystery, intrigue and incredible power that reigned here.
Temple of Heaven was built in the 15th century, a sacred site for ancient Beijing, where the emperor and his 1000 member entourage would retreat twice a year for religious ritual. Surrounded by enormous grounds designed in accordance with fengshshui, the Temple complex consists of the Celebrated Hall of Prayer for Good Harvests, a unique wooden and blue-tiled structure built without a nail. It is considered the supreme achievement of traditional Chinese architecture.
Day 3 Beijing (B,L)
The Great Wall Tour, The Ming Tombs, watch Peking opera in the evening.
The Great Wall of China is the longest structure ever built. It is about 4,000 miles long, and it was built entirely by hand. About 1,200-1,500 miles of the Great Wall were built during the reign of Emperor Shi Huangdi (Qin Dynasty). The Great Wall crosses northern China from the east coast to the central part of China.
Visit the fabled Ming Tombs, the resting places of thirteen emperors and their splendid treasures, passing down the Spirit Way, a road lined with statues of dignitaries, as well as huge elephants, lions, camels and horses, you will encounter the marble tombs of the Ming Dynasty emperors. Visit one of the spectacular tombs- Dingling featuring an underground palace.
Peking Opera or Beijing Opera is a synthesis of stylized action, singing, dialogue and mime, acrobatic fighting and dancing to represent a story or depict different characters and their feelings of gladness, anger, sorrow, happiness, surprise, fear and sadness.
Day 4 Beijing / Guilin (B,L)
Transfer via: Overnight train for soft sleeper  Train No.: K21 (09:10-12:29+1)
Be transferred to the railway station for your train to Guilin. Stay overnight on the train.
Day 5 Guilin
Arriving in Guilin, be met & transferred to your hotel. Visit the Reed Flute Cave in the afternoon.
Day 6 Guilin / Yangshuo (B,L)
After the breakfast you take bus to Dock. You will start your Li River Cruise from here. The total Journey is around 60 Kilometers and takes 4 hours. On the way you will see the most beautiful landscapes and pass throw the local villages. Stay overnight in Yangshuo. 
Later this day you will arrive at Yangshuo. You can also choose to stay in the town, stroll around the local market, witness the daily activities of local society. Or you might enjoy a class for Chinese Tachi in Yangshuo at sunset.
Yangshuo, the natural scenery features unique karst hills, crystal water, exquisite stones and intricate caves as well as a cultural historic heritage and folks of diverse customs. At night, have fun on the West Street, don't drink too much to miss tomorrow's program.  Or you can go to watch the envening show - Impression Liu Sanjie (optional). The Cormorant fishing show at night is also something new (optional).
Day 7 Guilin / Beijing (B,L)
Transfer via: Overnight train for soft sleeper  Train No.: K22 (19:02/23:30)
Morning bike ride to discover the rice paddies in Gaotian County. Be transferred to the railway station for your train back to Bejing.
From 6:30 to 9:00 am, cycle for 2 hours from Yangshuo to Aishan Village in the early morning, you will arrive at the Licun village and then you continue you bike ride on the trails to Yangshuo. After a hot shower in the hotel, you will be transfer by company vehicle to take bamboo rafting for two hours on Yulong River through limestone mountains and trails.
Service ends.