How to book a tour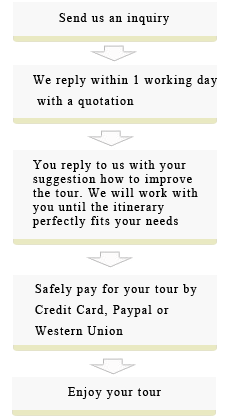 Great Wall Hiking Tour
Tour code: AT008
Duration: 5 Days
Route: Beijing, Guibeikou, Jinshanling, Simatai
Attractions: You will hike on 3 sections of Great Wall, Gubeikou, Jinshanling and Simatai during the 5 days hiking tour in Beijing. You will have your personal tour guide and driver in a safe and affordable way to enjoy the hiking.
Itinerary:
Day 1 Arrival / Beijing
On arrival at Beijing airport, railway station or long distance bus terminal, the local representative will meet you for your transfer to the hotel.   Leisure on your own for the rest of the day.  Recommend you to take a walk on Wangfujing Streeet, the most busy shopping area in Beijing. (Optional) 
Day 2 Beijing (B, L, D)
Visit Forbidden City, TianAnMen Square, Summer Palace, enjoy Beijing Roasted Duck for dinner.
Day 3 Beijing (B, L, D)
Drive to Gubeikoui in the morning and hike to Jinshanling. Barbecue tonight at the foot of the great wall. 
The Great Wall at Gubeikou is situated in the northeast of Minyun County of Beijing.It has been a communication center of strategic importance since ancient times. Beikou city was built in 1378 and was named Yingcheng. The surrounding wall runs over 2 kilometres with one gate on each of its three sides-east,north and south. Lying across the Caohe River with three water gates underground,the Great Wall at the Gubeikou Pass presents a rare magnificent view.
The Great Wall at the Jinshanling is located at the boundary between Miyun County, Beijing and Luanping County, Hebei province. It has been a strategic place contested by militarists since ancient times. The 25-kilometer-long Jinshan Ridge section has as many as 150 watchtowers and battlements,terraces and turrets. Architecturally, there are towers of various shapes--square, circular, oblate and cornered, and roofs of different strctures --flat and vaulted.
Day 4 Beijing (B, L, D)
Hike from Jinshanlin to Simatai today (12km up and down), drive back to Beijing.
Simatai located at the boundary between Gubeikou Town,130 km away from Beijing, and Luanping County,Hebei Province.  The 19-kilometre-long wall of Simatai began its construction in 1368. Architectually, the wall is delicately structured and unique in design. The 35 watchtowers there are original structured and varied in form. The Tower for Viewing the Capital at an elevation of 986 metres above sea level, is constructed on sheer precipices. This part of the great wall is charictorized as astonish,Unusual and Vicious.
Day 5 Beijing (B, L)
Visit Temple of Heaven.  Transfer to airport for next destination.
The Temple of Heaven, founded in the first half of the 15th century, is a dignified complex of fine cult buildings set in gardens and surrounded by historic pine woods. In its overall layout and that of its individual buildings, it symbolizes the relationship between earth and heaven, the human world and God's world ?which stands at the heart of Chinese cosmogony, and also the special role played by the emperors within that relationship.
Service end.