How to book a tour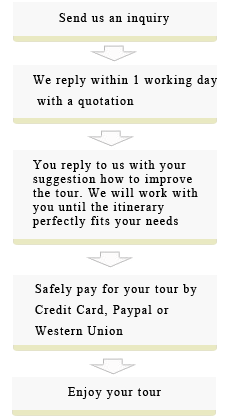 Great Wall trekking and Freetime in Baidaihe Beach
Tour code: beijing 026
Duration: 8 days
Route: Beijing, Beidaihe, Zunhua
Attractions: Explore different sections of Great Wall on your own way, and then visit to Beidaihe, China's seashore resort.
Itinerary:
Day 1 Arrival / Beijing (L)
Transfer via: flight-by your arrangement
Arrive in Beijing and transfer to Hotel, take city tour to Tian'anmen Square and Forbidden City.
Day 2 Beijing (B,L,D)
A bus-ride to the Great Wall at Badaling for the last 20-km trek until arrival at the Juyong Pass. Return to Beijing. In the evening, a Peking Roast Duck farewell dinner.
Day 3 Beijing (B,L)
Drive to the Great Wall at Gubeikou and go on a 30-km trek to the Great Wall at Mutianyu. Return to Hotel.
The Great Wall at Gubeikou is situated in the northeast of Minyun County of Beijing.It has been a communication center of strategic importance since ancient times. Beikou city was built in 1378 and was named Yingcheng. The surrounding wall runs over 2 kilometres with one gate on each of its three sides-east,north and south. Lying across the Caohe River with three water gates underground,the Great Wall at the Gubeikou Pass presents a rare magnificent view.
Day 4 Beijing (B,L)
A 160-km drive to Jinshan Ridge and set off for a 40-km trek to the Great Wall at Simatai. Check in at Hotel.
The Great Wall at the Jinshanling is located at the boundary between Miyun County, Beijing and Luanping County, Hebei province. It has been a strategic place contested by militarists since ancient times. The 25-kilometer-long Jinshan Ridge section has as many as 150 watchtowers and battlements,terraces and turrets. Architecturally, there are towers of various shapes--square, circular, oblate and cornered, and roofs of different strctures --flat and vaulted.
Day 5 Beijing / Beidaihe (B,L)
Transfer via: by train for soft seat  Y509 (07:50/10:48)
Leave Beijing by train for Beidaihe, China's seashore resort. Transfer to which is close to the beach. Lunch at the hotel and free in the afternoon. Dinner at the hotel and an overnight stay there.
Day 6 Beidaihe (B,L,D)
A one-hour bus-ride to Laolongtou (Old Dragon's Head), the eastern end of the Great Wall. Start a 18-km trek to the Great wall at Jiaoshan Section. Then drive to Shanhai Pass, No. 1 Pass Under Heaven. Stay overnight there.
Day 7 Beidaihe (B)
Free at leisure on your own for a whole day.
Day 8 Beidaihe / Beijing (B)
Transfer via: by train for soft seat T584 (10:27/14:59)

Be transferred to the railway station, catch a train back to Beijing. Own arrange to go to Beijing airport to catch your flight to your next destination.
Service ends.