How to book a tour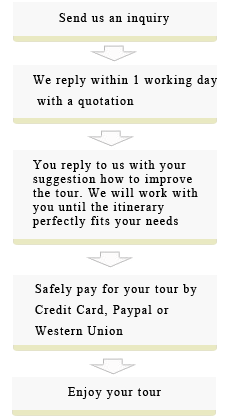 Hong Kong & Guilin tour
Tour code: HK001
Duration: 5 days
Route: Hong Kong, Guilin, Yangshuo, Longji, Hong Kong
Attractions: Reed Flute Cave is one of the largest known examples of what each tropical karst cone conceals within it; biking and taking bamboo rafting in Yangshuo countryside.
Itinerary:
Day 1 Arrival / Hong Kong
Transfer via: own arrangement
Pick up from Hong Kong airport by our English speaking tour guide and transfer to your hotel. Free time for the rest of the day.
Recommend you to take the Morning Star Ferry to enjoy the magnificent night view of Victoria Bay. The ferry has a history more than one hundred years, and it was the main transportation tool for people to go from Hong Island to Kowloon (Optional).
Day 2 Hong Kong / Guilin (B)
Transfer via: by air
HONG KONG ISLAND TOUR to Victoria Peak, Aberdeen, Repulse Bay. Own arrange your lunch. Later today you will be transferred to Guilin by evening flight. Pickup from Guilin airport and transfer to the hotel in Guilin.
The Victoria Peak is Hong kong's number one tourist destination. It features the city's of oldest mode transport, the 112-year old Peak Tram and Hong Kong's most unusual building and icon, The Peak Tower. It combine shoppings, restaurants, and entertainment.
Aberdeen Harbour is home of hundreds of people living on fishing junks. Take sampan ride to get a close-up look at this unusual way of life.
Repulse Bay has a relaxed, resort-like atmosphere. The wide beach is popular with residents and great for sandy strolls. It features statues of Kwun Yum and Tin Hau, both protectors of fishermen.
Day 3 Guilin / Yangshuo (B,L)
After the breakfast you take bus to Dock. You will start your Li River Cruise from here. The total Journey is around 30 Kilometers and takes 4 hours. On the way you will see the most beautiful landscapes and pass throw the local villages.  
Later this day you will arrive at Yangshuo. You can also choose to stay in the town, stroll around the local market, witness the daily activities of local society. Or you might enjoy a class for Chinese Tachi in Yangshuo at sunset. (optional)
Yangshuo, the natural scenery features unique karst hills, crystal water, exquisite stones and intricate caves as well as a cultural historic heritage and folks of diverse customs. At night, have fun on the West Street, don't drink too much to miss tomorrow's program. Or you can go to watch the evening show - Impression Liu Sanjie (optional). The Cormorant Bird catching fish show at night is also something new (optional).
Day 4 Yangshuo / Longsheng (B,L,D)
Biking ride through rice paddies in Beautiful Yangshuo, you will arrive at the Moon Hill for visiting and then you continue you bike ride on the trails to Yangshuo. Later you will take more than 3 hours driving to Longsheng. Stay in the mountain village overnight.
You might take bamboo rafting on Yulong River through limestone mountains and trails if you have enough free time. (Optional)
Longsheng is located in the mountainous region on the northeastern part of Guilin. The natural beauty and the colorful ethnic Chinese cultures and customs attract people from all over the world.
Longsheng is famous for the Longji Dragon Backbone Rice Terrace: 60 square kilometers of terraced rice fields southeast of Longsheng. They were first built in the Yuan dynasty and completed in the Qing dynasty by Zhuang people. The terraced fields are built along the slope winding from the riverside up to the mountaintop, with the highest place of an elevation of 885 m and the lowest 380m. The coiling line spirals up from the mountain foot to the top, making the mountain looks like huge snail seen from afar.
Day 5 Longji / Guilin / Hong Kong (B,L)
Transfer via: by air
Transfer to Guilin by road. Visit Reed Flute Cave. Transfer to airport for evening flight to Hong Kong.
Visit the Reed Flute Cave. Aside 15 minutes drive (or one hour bike ride) from downtown, the cave is one of the largest known examples of what each tropical karst cone conceals within it. The script writers and set designers for Star Trek would have a field day in this cavernous underground stalactite/stalagmite maze-style theater. The dropping water is rich and the dripstones are not only in various types but also in big size, displaying a wonderful cave world. This cave was called "The Art Gallery of Mother Nature". Colored fluorescent lights which cast shadows and illuminate shapes of imaginary animals, fruits and vegetables complete the unworldly effect.
Service ends.