How to book a tour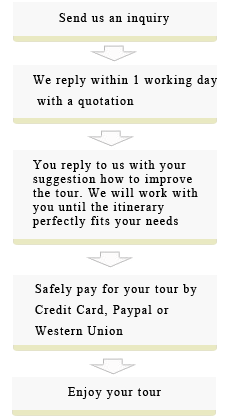 Yunnan Paradise-Canton Fair Tour
Tour code: CFP008
Duration: 7 days
Route: Guangzhou, Lijiang, Dali, Kunming
Attractions: Lijiang, Jade Dragon Snow Mountain, Dali, Kunming Tour Trip Highlights: Visit the Lijiang Ancient Town, Jade Dragon Snow Mountain, Stone Forest...
Itinerary:
Day 1 Guangzhou / Lijiang
Transfer via: by air 
Arrive at Lijiang airport, pick up by our English speaking tour guide and transfer to hotel. Visit the old town of Lijiang, escorted tour to Square Street.
The Lijiang ancient town of Dayan: The town was built in the late song dynasty and the early Yuan dynasty and was listed by the UNESCO on the list of the world's major cultural heritages in 1997.
Day 2 Lijiang (B, L)
Full day visit the Jade Dragon Snow Mountain, Yak Meadow, the old house of Joseph Rock, who stayed in Lijiang for 27 years from 1922 to 1949.  
The Jade Dragon Snow Mountain: The mountain has 13 peaks of which the highest is 18000 feet above sea level. It is a treasure of wild plants and rare animals.
Day 3 Lijiang (B, L)
Visit Mu Prince Mansion in the morning. Drive to Lashi Lake to visit Naxi Village in the afternoon, take a canoe ride on the lake.
Day 4  Lijiang / Dali (B, L)
In the morning, drive to Dali, stop at Xizhou, visit the typical living house of Bai Minority. Enjoy the tea ceremony of Bai Ethnic, continue to drive to Dali. Visit the old town, the Ancient Wall Gate. More details of Dali...
Xizhou House: live Bai minority people. You will see their typical traditions, dresses there.
Day 5  Dali / Kunming (B, L)
Transfer via: by air
Morning visit of a small Catholic church in old town of Dali, Visit Three Pagodas, have lunch at an old traditional restaurant called "Plum Well" Later today you will fly to Kunming. Upon arrival, be met & transferred to your hotel in Stone Forest, about 90 km from Downtown Kunming, enjoy the beautiful surroundings while the crowd of visitors do not disturb you. The night of Stone forest is so unique, which you can not find in other place of the world.
Three Pagodas:are located northwest of Dali at the foot Cangshan Mountains. With Qianxun Pagoda, completed in 876 during the Tang dynasty (618-907AD).
Stone Forest is located in Shilin County, 89 kilometers from Kunming. The area, covering 350 square kilometers, is the highest karst terrain in the world and a national scenic area in China.
Day 6 Kunming (B, L)
In the morning, drive back to the downtown, visit Western Hill & Dragon Gate, take cable car visit Dian Lake, Golden Temple.
Day 7 Kunming / Departure (B, L)
Visit the Flower Market in the morning, transfer to airport for your flight to next destionation.
Service ends.