How to book a tour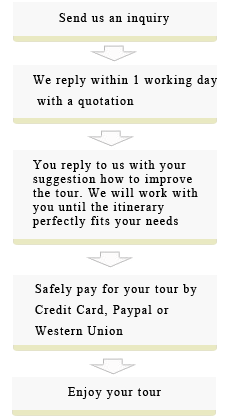 Longji rice terrace and Yangshuo hiking tour
Tour code: GY017
Duration: 7 days
Route: Guilin, Longji, Yangshuo
Attractions: Jiuwu Village, Longji Rice Terrace, Hebao Hill, Li River, Yangshuo
This is our best program in Yangshuo and Guilin, people who signs up need to be on walking, and adjustment of itinerary might happen due to the weather condition.
Itinerary:
Day 1
Arrival / Guilin
Transfer via: caoch
Airport pickup and transfer to hotel in Guilin, the rest of the day is free to explore the city or take a leisurely stroll along the Banyan Lake.
Accommodations: Grand 0773 Guilin Hotel, Guilin(3 star)
Day 2 (B, L, )
Guilin / Jiuwu Village
Starting early in the morning, we drive north of Guilin to Linchuan County, pass a famous well-reserved village of Jiangtou.
Jiangtou Village is located in the north of Guilin and about 32 km always from Downtown Guilin. It is a very famous ancient village with the history of 600 years.
Our drive stops at XinZhai village, where our hike will begin. The driver will pickup us from the other side of the mountain. All your luggaes will be left on the coach, and you will not see them tonight, so please take your change clothes with you for today's trekking.
The trail traverses terraced slopes and bamboo forests and connects several Zhuang and Yao minority villages in the area. The solitude and calm of the trail are overwhelming, and at times the only sounds we hear come from a babbling brook or chirping bird. The hike ends in Jiuwu Village, literally "old house" village, where we overnight with a local family and experience their generous hospitality.
Accommodations: Local village's House at Jiuwu Village
Day 3 (B, L, )
Jiuwu Village / Tiantou Village
From Jiuwu, we continue our journey to Tiantou Village, passing through several other minority villages on the way. Many of these villages are very remote, and are only accessible via the trail we are following. Therefore, we can experience a side of China that, even today, has hardly been touched by the many changes sweeping through other parts of the country. Looking out over the terraced landscape, it is hard to imagine how long it took to carve the mountains into the beautiful scene unfolding around us.
Jinkeng Rice Terrace, which is home to Yao minorities. Jinkeng Rice Terraces are located around 25 miles (40 km) away from Longsheng, where you will be rewarded feats of farm engineering going all the way up a string of 2400 feet (800 m) mountains. The 66-square-km network irrigation project was began by the ethnic Zhuang in the Yuan Dynasty (1271-1368), and finished by the Qing (1644-1911).
Accommodations: Local village's House at Tiantou village
Day 4 (B, L, )
Tiantou Village / Ping'an Village / Yangshuo
Today, we finish the last portion of our hike in Ping'an Village. The village is nestled high on the mountain slope, and overlooks a breathtaking view of a wide expanse of carefully carved fields. After three long days on the trail, the comforts of Ping'an are well deserved. In the evening, we can enjoy the sunset from an outdoor patio overlooking the valley.
PingAn Rice Terrace is called "The champion of the terrace world". It is the Dragon's Backbone Rice Terraces. The Dragon's Backbone Rice Terraces is 27 kilometres from Long Sheng County.
In this county there are numerous terraced fields, of which the terraced Fields in Longji village show a picture of great momentum and imposing beauty. It is 22.5 km from the county seat and 108 km. from the city of Guilin. The terraced fields are built along the slope winding from the riverside up to the mountain top, the highest part being 880 m in elevation while the lowest part 380 m in elevation. The coiling line that starts from the mountain foot to up to the mountain top divides the mountain into layers of water glittering in the sun in spring, layers of green rice shoots in summer, layers of golden rice in fall, and layers of silvery frost in winter. The terraced fields were mostly built during the Ming Dynasty about 500 years ago. More information of Dragon Backbone rice Terrace..
Later in the afternoon, we will drive to Yangshuo. Tonight we will stay in a hotel at the bank of Yulong river, far away from the night life of Yangshuo. After so many days of trekking, we definitely need a peacefull night.
If we arrive earlier, and you still have energy, the water rafting on Yulong River is something worth to try. The optional cost is RMB 110 per person.
Accommodations: Mountain Retreat Resort, Yangshuo
Day 5 (B, L, )
Yangshuo / Yangdi / Hebao Hill
After a leisure morning in Yangshuo, take public bus for 1 hour to Yangdi, a small fishing villag. Your hiking tour finishs here. Three hours hiking to Hebao Hill.
Walk along Li River to Yangdi. Along the way you witness scenes that transported us back in time; farmers walking their Water Buffalo along the river¡¯s edge, men casting their hand sew nets out onto the water in hopes of catching fish, simple watercraft made of bamboo poles tied together. Every turn of the boat brought an endless procession of the dramatic rock formations. Stay in a local family hostel at the foot of Hebao Hill.
Highly recommend you to have a good sleep earlier than usual tonight. We need to get up very early tomorrow for sunrise.
Accommodations: Laozhao's Family Inn, Hebao Hill Village
Day 6 (B, L, )
Hebao Hill / Xingping / Yangshuo
Get up 5:00 to climb up Hebao Hill to enjoy the sunshine. After having the breakfast continue hike for two more hours to Xingping. Take public bus to Yangshuo.
Free time to discover the night of Yangshuo. Recommended activies: watch the famous light show of Impression Liu Sanjie from 19h30 to 21h30, party time on West Street after 22h00.
Accommodations: Mountain Retreat Resort, Yangshuo
Day 7 (B, )
Yangshuo / Departure
Transfer via: own arrangement
Leisure on your own for the morning. Recommend you ride a bike for two hours through the rice paddies in the early morning.
Later today you will be tranferred to Guilin airport for flight to sweet home.
Service Ends