How to book a tour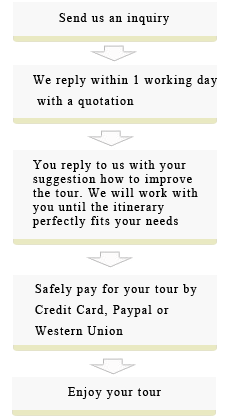 Voyage in Xishuangbanna
Tour code: YN021
Duration: 7 days
Route: Kunming, Jinghong, Wild Elephant Valley, Menglun, Mengla, Menghai, Jinghong
Attractions: Jinuo Villages, Tropical Botany Garden, Air Corridor in Mengla, Jingzhen Octagonal Pavilion, Stone Forest, etc
Itinerary:
Day 1 ( D )
Arrive / Kunming
Upon arrival, be met & transferred to your hotel in Stone Forest, about 90 km from Downtown Kunming, enjoy the beautiful surroundings while the crowd of visitors do not disturb you. The night of Stone forest is so unique, which you can not find in other place of the world.
Stone Forest is located in Shilin County, 89 kilometers from Kunming. The area, covering 350 square kilometers, is the highest karst terrain in the world and a national scenic area in China.
Day 2 (B, L, )
Kunming / Xishuangbanna
Transfer via: HU7387 (1400/1610)
Tour to the Dragon Gate in Western Hills. Visit the Grand-view Park, a beautiful lake- side park that was completed in 1690 during the Qing Dynasty, known for its longest antithetical couplet in China.
In the afternoon, take flight to Jinghong, the capital of Xishuangbanna.
Xishuangbanna is the only tropical rainforest nature reserve zone in China, famous for its mysterious tropical rainforests and minority customs. The climate is warm and wet here, ideal for nurturing some wonderful plants and flora and home to unusual wildlife.
Day 3 (B, L, )
Jinghong / Wild Elephant Valley
Explore the Wild Elephant Valley which is a nature reserve for elephants, overnight at the Up-Tree Hotel inside the reserve from where you can see wild elephants if you are lucky.
Day 4 (B, L, )
Jinghong / Mengyang / Menglun
Drive 34 km to Mengyang, stop at Elephant Shaped Banyan Tree for a short break. Continue your trip for 19 km to Jinuo, which is home base for Jinuo Villages. In the afternoon, visit Tropical Botany Garden is located on Hulu Island in Menglun. Stay overnight in Menglun.
Day 5 (B, L, )
Menglun / Mengla / Jinghong
Visit the Air Corridor in Mengla, which is a border town with Laos, the corridor has been invested by UN for survey the wild animals living in the rain forest. Drive back to Jinghong in the late afternoon.
Day 6 (B, L, )
Jinghong / Kunming
Transfer via: CA4476 (2055/2140)
Drive to Menghai, visit the the Jingzhen Octagonal Pavilion which was first built in 1701 as a place of Buddhist worship. On the way, visit Ake village; Aini ethnic villages and local market.
Flight back to Kunming.
Day 7 (B, L, )
Kunming / Depart
Visit the Golden Temple, a Daoist temple, the main building of which is cast entirely in bronze weighing about 280 tons. Also visit the Qiongzhu Monastery, a Tang Dynasty (618-907 A.D.) temple known for its Arhat statues, is the most famous of Kunming's temples.
Transfer to the airport for flight to next destination.
Service end.
Notice:
The raining season in Xishuangbanna is from late May to early September, roads might be block by mountain slide and falling rocks. The best traveling time for our trekking tour is from October to April.
In case of bad weather condition or road difficulties, the original itinerary which has been confirmed by us might has to be changed accordingly by our local tour guide, or even the whole trip could be cancelled eventually. Please trust the judgement of our expienced tour guide, they are the expert and have escored trekking trips for years.