How to book a tour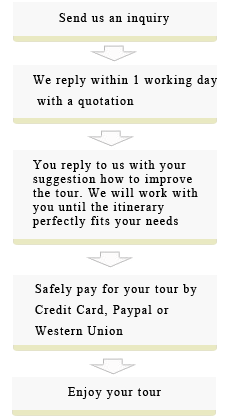 Chengdu Highlights tour
Tour code: AT301
Duration: 7 days
Route: Chengdu, Huanglong, Jiuzhaigou, Leshan, Mount E'mei
Attractions: Wensu Temple, Panda Base, Huanglong, Jiuzhaigou Valley, Mount Emei, Leshan Grand Buddha, Wannian Temple
Itinerary:
Day 1
Arrival / Chengdu
Transfer via: air
Arrive in Chengdu. Be met by our English speaking tour guide at the airport. Visit Wenshu Temple. The vegetarium restaurant served at Wenshu Temple is famous in the whole area.
At night, recommend you to visit local tea house, the place where local people spend their fun time at night, local performance of Sichuan Opera, Acrobats life show available. Please ask your local tour guide to reserve the seat in advance, because it is always fully booked per night.
The optional ticket cost is from US$ 10 to US$ 20 per person, price different for front seat, center seat or back seat in the thearte. Please remember that you need to take a cab back to the hotel after show, ask for a hotel namecard with both Chinese and English address of the hotel, it will be quite useful to simply display the card to a Chinese cab driver.
Day 2 (B, L)
Chengdu / Huanglong / Jiuzhaigou
Transfer via: Morning flight
Take the morning flight to Jiuzhaigou & Huanglong airport which is 3474m above sea leave level.
Drive to Huanglong which is considered the "Yellow Dragon", the golden-colored river bed, it was transformed from lava tens of thousands of years ago, can be seen climbing up from the bottom of the valley and disappearing far above Mount Xuebaoding, the main peak of the Minshan Mountains. You are going to enjoy the Welcoming Pool, Bathing Cave, Yellow Dragon Cave and Colorful Pool etc.
Drive to Jiuzhaogou.
Day 3 (B, L, D)
Jiuzhaigou
Transfer via: coach and trek
You are going to have a whole day sightseeing in Jiuzhaigou Valley. It was honored by UNESCO as "World Natural Heritage List" in 1992 and "Man and Biosphere Reserve" in 1997. and became the precious wealth commonly owned by all mankind.
This is a sacred land with the best scenic spots and glorious views: a fairyland, primitive and natural, without a single drop of dirt, where majestic and unrivalled emerald lakes, layer upon layer of waterfalls, colorful forests, snow peaks and Tibetan folkways, forming a perfection of itself.
The attractions will be Narrow bamboo Lake, Panda Lake, Five Color Lake, Mirror Lake, Pearl shoal waterfall, Long lake, Colorful Pool, Seasonal Lake, Nuorilang Waterfall, Tiger Lake, Shuzheng Lake & Shuzheng Waterfall etc.
Day 4 (B, L)
Jiuzhaigou / Chengdu
Transfer via: Morning flight
Transfer to Chengdu by air. Visit Panda Base.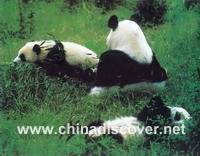 The Panda Base is situated on the Axe Hill 10 kilometers from the north suburb of Chengdu City. It covers an area of 600 acres. The environment here is exquisitely designed; the air is refreshing with the bamboo growing luxuriantly and flocks of wild birds flying around. There are 43 giant pandas and tens of specious animals such as red pandas and black-necked cranes.
More informations of Giant Panda :
Wolong Nature Reserve Zone     Be a Panda Keeper     About Panda
Day 5 (B, L)
Chengdu / Leshan / Mount. E'mei
Transfer via: bus
Take tour bus from Chengdu-Leshan express way 140km to Leshan (about 2 hours), Enjoy the landscape of Chengdu Plain on the way. Sightseeing Lingyun Temple and the biggest carved Buddhist statue in the world.
The Grand Buddha is 71 meters high, carved into a cliff face overlooking the confluence of the Dadu and Min rivers.
After lunch, we have the other half an hour drive to Mt. E'mei Nation Dedicating Temple (Baoguosi) which was built in the 16th century, enlarged in the 17th century by Emperor Kangxi and recently renovated. Fuhu Temple ------"Crouching Tiger Monastery", as it is known in Chinese, is sunk in the forest. Inside is a seven-meter-high copper pagoda inscribed with Buddhist images and texts.
Afterwards, we have another 2 hours drive to Leidongping by tour bus, and then take the cable-car to Golden Summit (Jingding).
Day 5 (B, L)
Mt. E'mei / Chengdu
Transfer via: coach
Get up in the early morning, If the weather is good enough, You will have the chance to enjoy the wonderful sunrise-----one of the four famous wonders of E'mei Mt. (The four wonders is called the sunrise , clouds sea, Buddhism aurora and Holy light). Take the cable-car to Leidongping, and then change to tour bus to Wannian Temple. As a magnificent and large-scaled temple, The Wannian Temple, located on the right peak of the Lion, is a very well known ancient temple of Mt. Emei.
After pay the visit to Wannian temple, drive back to Chengdu. For your dinner, you might go to enjoy the famous Sichuan Cuisine, 'cause you are in the origin place of one of the four famous Chinese cuisine (optional).
Day 7 (B )
Chengdu / Depart
Transfer via: air
Free time till to be transferred to next destination.
Service ends.