How to book a tour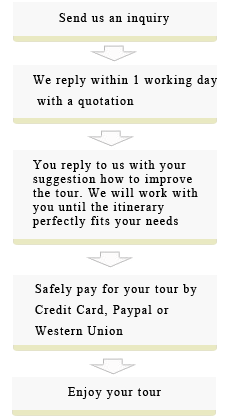 Mount E'mei Trekking Tour
Tour code: AT 302
Duration: 8 days
Route: Chengdu, Mount E'mei, Sanxingdui
Attractions: Panda Base, Mount E'mei, Sanxingdui, Wannian Temple, Leshan Grand Buddha, Baoguosi, Fuhu Temple, Heart Watchig Hill, Calming House, Elephant-Bathing Pool, Zhanglao Terrace, Chu Hall, Huayan Summit, Jiuling Mountain, Zuantian Slope, Liuling Mountain, Leidong Groud, Yuxian Temple, Xianfeng Temple, Hongchunping Ground, Qingyingge
Itinerary:
Day 1
Arrival / Chengdu
Arrive in Chengdu. Met at the airport by our English speaking tour guide and transfer to the hotel.
Day 2 (B, L, )
Chengdu
Todays program will absolutely the very highlight of the tripBe A Panda Keepeer!!!
Chengdu Panda Breeding Research Base is situated on the Axe Hill 10 kilometers from the north suburb of Chengdu City. It covers an area of 600 acres. The environment here is exquisitely designed; the air is refreshing with the bamboo growing luxuriantly and flocks of wild birds flying around. There are 43 giant pandas and tens of specious animals such as red pandas and black-necked cranes.
Drive to Chengdu Research Base of Giant Panda Breeding in the early morning as a lecture by the researchers & experts is waiting for us. We have a meeting with experts & researchers there in VIP room where tea service and information files will be provided. Our experts will offer you specific explanation about Giant panda.(10USD/p.p).
After lunch, Guided by the panda keeper. Everyone will get the chance to be a Panda Keeper!! What do we do? Clean the panda house, feed the Giant panda, have an intimate contact with Giant panda and have the photo taken ,etc.. (50 USD/p.p, Including overshoes, disinfectant, tool and taking photos) a experience you could only enjoy in Chengdu!!!
We are also going to Qingtai ancient Road, to experience the ancient style construction of Ancient Shu Kindom. After dinner, another exotic experience is waiting for usA tea break at the local teahouse &Sichuan fork arts performances including the spectacular face changing, and spiting fire etc. Cant you miss the chance?
Day 3 (B, L, )
Chengdu / Leshan / Mr. E'mai
Drive for 130 KM to Leshan Grand Buddha scenic spot, Boarding a boat move to the center of Mingjiang river to have a best view of the Grand Buddha.
The Grand Buddha is 71 meters high, carved into a cliff face overlooking the confluence of the Dadu and Min rivers.
After lunch, we have the other half an hour drive to Mt. E'mei Nation Dedicating Temple (Baoguosi) which was built in the 16th century, enlarged in the 17th century by Emperor Kangxi and recently renovated. Fuhu Temple ------"Crouching Tiger Monastery", as it is known in Chinese, is sunk in the forest. Inside is a seven-meter-high copper pagoda inscribed with Buddhist images and texts.
Day 4 (B, L, )
Mt. E'mai
Take a bus to Wannian Temple Parking Lot, and start our trekking. You are not only visiting the temple but also enjoy the amazing vegetarian lunch cooked by the monks.
Keep on trekking after lunch. Passing the 5 km-long Heart Watching Hill, you will be at Calming House. On the journey from Calming House to Elephant-Bathing Pool, there are the scenic spots of Zhanglao Terrace, Chu Hall, Huayan Summit, Jiuling Mountain and Zuantian Slope. Overnight in the Guesthouse near Eelephant-Bathing Pool. Have a good relaxation and Enjoy a tranquil night here, 'cause you are on the half of E'mei Mt. The wild monkeys might give you a lovely surprise!
Day 5 (B, L, )
Mt. E'mai
Today you will continue trekking to Golden summit is 1.5 km. far from Elephant-Bathing Pool through Lianwang Slope and Leidong Ground. On the Golden Summit, beyond Woyun Nunnery and Chaohuazang Temple, people could enjoy the four spectacles on Golden Summit which the height is 3077M above sea leavel.
Day 6 (B, L, )
Mt. E'mai
Get up early do not miss the chance to enjoy the beautiful sunrise which is one of the four spectacles of Mt. E'mei. Back to Jiuling Mt. Via Leidong Groud and Elephant-Bathing Pool. Then we are going to take the other way to treck down. Through Yuxian Temple, Xianfeng Temple, Hongchunping Ground, ecological monkeys area, One Line of Sky, Qingyingge (Clear Sound Pavilion).
Finally arrive Wuxiangang Park, then take the tour bus back to Huasheng Hotel. Have a relaxation in this evening.
Day 7 (B, L, )
Mt. E'mai / Chengdu
Take a 4-hour-ride to Sanxingdui Museum in the morning (60km one way), after lunch experience the spectacular 3000-year-old cultural relics of ancient Shu Kindom. Then back to Chengdu. Enjoy the unforgettable foot massage in the evening.
In Sanxing Dui which is 40 kilometers south of Chengdu, two large sacrificial pits were found in 1986 boast the most important archaeological finds on the Sanxing Dui Ruins for the past half century.
Day 8 (B, )
Chengdu / Depart
Transfer to airport for flight to next destination.
Service end.