How to book a tour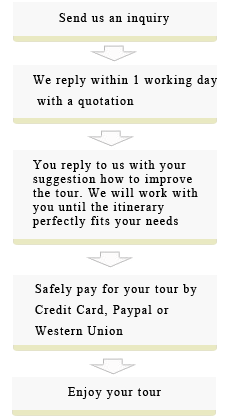 Experience at TCM Center and Panda Base in Chengdu
Tour code: AT 303
Duration: 8 days
Route: Chengdu, Mount E'mei
Attractions: TCM Center Chengdu, Panda Base, Leshan Great Buddha, Mount E'mei, Sichuan Opera
Itinerary:
Day 1 ( L, )
Arrival / Chengdu
Arrive in Chengdu. Met at the airport. Visit Wuhou temple, the memorial shrine to Zhugeliang- the Prime Minister and Liubei the King of Shu kingdom.
Day 2 (B, L, D)
Chengdu
Drive to Chengdu University of TCM, Lecture given by scientist in TCM field. Then visit the clinic of Attached Hospital of Chengdu University of TCM. You will have a totally different view of TCM as well as the way of TCM treatment.
After lunch, Exchange meeting with the experts in special field according to guests research field. Learn acupunctureYou may also be TCM doctor yourself.
This evening, we are going to have a special TCM dinner in the famous local restaurant---Qinshanzhai. The medicinal food here and following massage of TCM will be your unforgettable experience.
Day 3 (B, L, )
Chengdu
Visit the new campus and Culture Museum of Traditional Chinese Medicine of Chengdu University of TCM which is located in the Hi-tech Zone district of Chengdu in the morning.
After lunch, We are going to visit the largest medicinal material market in southwest of China. Our experts will teach you how to distinguish the Chinese herbals medicine.
Day 4 (B, L, )
Chengdu / Leshan / Mr. E'mai
Drive to 130KM to Leshan Great Buddha scenic spot, Boarding a boat move to the center of Mingjiang river to have a best view of the Great Buddha. Then drive 40KM to Emei City and have lunch in Emei..
Drive to Emei Branch of Chengdu University of TCM, have a short visit in the campus. Then go to the most important temple in Mt. Emei.---Wannian temple to have a better understanding of Chinese Bhuddism. Over night at Wannian temple.
Day 5 (B, L, )
Mt. E'mai
Get up early, we hike to Joking Monkey Zone, have intimate close to wild monkeys. Then we go to visit the Chinese martial art school and Chinese herbs base.
After the vegetarian lunch at Qingyingge (Elegant Sound Pavilian), we drive to Leidongping and take the cable car up to the Jinding (Golden Summit of Mt.Emei). If our pray works, after the visit to Hua Zang Temple,we could enjoy the spectacular view of seas of clouds, sunset etc. Well overnight at Jinding Grand hotel for the Sun Rise next morning.
Day 6 (B, L, )
Mt. E'mai / Chengdu
Get up in the early morning, If the weather is good enough, You will have the chance to enjoy the wonderful sunrise-----one of the four famous wonders of E'mei Mt. (The four wonders is called the sunrise, clouds sea, Buddhism aurora and Holy light). Take the cable-car to Leidongping, then drive back to Chengdua Amazing Sichuan Opera "face changing" is waiting for us !!
Day 7 (B, L, )
Chengdu
Today's program will absolutely the very highlight of the trip.

Drive to Panda Base in the early morning as a lecture by the "researchers & experts" is waiting for us.
After lunch, Guided by the panda keeper. Everyone will get the chance to be a "Panda Keeper"!! What do we do? Clean the panda house, feed the Giant panda, have an intimate contact with Giant panda and have the photo taken ,etc.. (50 USD/p.p, Including overshoes, disinfectant, tool and taking photos) a experience you could only enjoy in Chengdu!!!
We are also going to Qingtai ancient Road, to experience the ancient style construction of Ancient Shu Kindom.
Day 8 (B, )
Chengdu / Depart
Transfer to airport for flight to next destination.