How to book a tour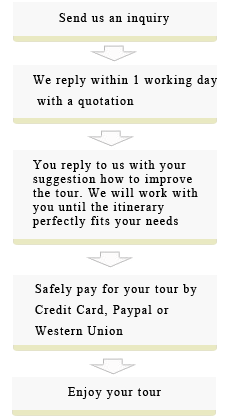 Wolong Panda Base and Mount Siguniang Tour
Tour code: AT304
Duration: 6 days
Route: Chengdu, Mount Siguniang, Wolong
Attractions: Siguniang Mountain, Changping Gully, Double Bridge Gully, Wolong Nature Reserve
Itinerary:
Day 1 ( L, )
Arrival / Chengdu
Arrive in Chengdu. Met at the airport. Visit Wuhou temple, the memorial shrine to Zhugeliang- the Prime Minister and Liubei the King of Shu kingdom.
Day 2 (B, L, )
Chengdu / Rilong
Start from chengdu at 7:00am, enjoy the beautiful view of Mijiang river on the bus. We will pass the Balang mountain after lunch in wolong. In the afternoon tour at Double-bridge gully, including Ox heart mountain, Ginseng fruit flat, Hunter mountain, Riyue precious Mirror etc.
Day 3 (B, L, )
Mt. Siguniang
Visit other scenic spots of Siguniang mountain at Changping gully including the panorama' scene of snow mountain, lama temple, kushu sand. (box-lunch will be served)
Day 4 (B, L, )
Mt. Siguniang
Sightseeing at Haizi gully of Siguniang including enjoying the sunshine of plateau , sightseeing the panorama of Siguniang mountain, mountain meadow, gouzhuan flat, old cow garden, dahaizi etc. (box-lunch will be served)
Day 5 (B, L, )
Wolong
Start from Rilong township in the morning , visit Wolong Nature Reserve including the museum, panda breeding research station.
Wolong Nature Reserve is located approximately 120km (74 miles) northwest of Chengdu and includes the Giant Panda Research Center. It is about 3 hours drive from Chengdu. The nature reserve covers an area of over 2,000 sq km and is a refuge for other rare and endangered species including the snow leopard, golden monkey, golden langur, musk deer and red panda. The UN has declared Wolong an international biosphere preserve and in addition to the wealth of fauna, 4,000 different types of plants are believed to grow here.
Day 6 (B, L, )
Wolong / Chengdu
Drive to Chengdu. Transfer to airport for flight to next destination.