How to book a tour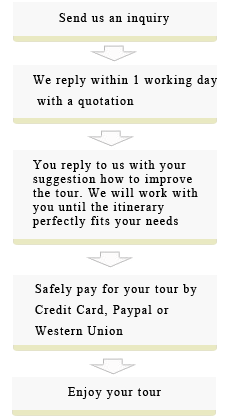 Gongga Ice Glacier and Danba Discovery
Tour code: AT307
Duration: 9 days
Route: Chengdu, Hailuogou, Kangding, Xinduqiao, Tagong, Danba, Rilong
Attractions: Hailuogou glacier, Hailuogou hot spring, Gongga Glacier, Zheduo Mountian, Dadu River valley, Jiarong Tibetan, Siguniang Mountain, Changping Gully, Double Bridge Gully
Itinerary:
Day 1 ( L, )
Arrival / Chengdu
Arrive in Chengdu. Met at the airport. Visit Wuhou temple, the memorial shrine to Zhugeliang- the Prime Minister and Liubei the King of Shu kingdom.
Day 2 (B, L, )
Chengdu
Today's program will absolutely the very highlight of the tripBe A Panda Keeper!!! Drive to Panda Base in the early morning as a lecture by the "researchers & experts" is waiting for us.
After lunch, Guided by the panda keeper. Everyone will get the chance to be a "Panda Keeper"!! What do we do? Clean the panda house, feed the Giant panda, have an intimate contact with Giant panda and have the photo taken ,etc.. (50 USD/p.p, Including overshoes, disinfectant, tool and taking photos) a experience you could only enjoy in Chengdu!!!
We are also going to Qingtai ancient Road, to experience the ancient style construction of Ancient Shu Kindom.
Day 3 (B, L, )
Chengdu / Hailuogou (Moxi County)
Drive along the express way for 140 km to Ya'an, then drive for 210 km, passing Tiaquan, Erlang Moountain, to Hailuogou (Moxi County). Stay at base No.2. Take a bath in the hot spring.
Day 4 (B, L, )
Hailuogou / Kangding
Drive to No.3 Base Camp, walk through the virgin forest, get to the Gongga Glacier. Then drive from Ludign to Kangding, You will arrive at Kangding-the cpital city of Ganzi Tibetan Autonomous Prefecture in the afternoon. After dinner, enjoy the hot spring at Erdaoqiao.
Day 5 (B, L, )
Kangding / Danba
In the early morning, visit Anjue monastery-the very first Tibetan monastery on this trip, an rare chance to see their morning ceremony per day!
Drive to Zheduo Mountian, pass by Xingduqiao, which is regarded the paradise of the photographers, visit Tagong grassland, Tagong Temple, have a view of the grandure Laya holy mountain, enter the Natural BonsaiDanba Dongyi Galley, arrive at Danba.
Visit Jiajv Tibetan Village in Danba. Stay overnight in Tibetan style local families.
Day 6 (B, L, )
Danba / Rilong
Visit sky towering thousand-year old Diao Tower, Dadu River valley, feel the folklores of the local Kangba Tibetans. Take a "half-day-tour" at the local "Jiarong Tibetan" family. People here are most friendly & hospitable.
Danba is a county where you may see different Tibetan people. Because the local Tibetans here are called "Jiarong Tibetan". This is what you come here for.
Furthermore, you may have the very good chance to enjoy the "Jiarong Tibetan's customs & stock house's"slides show by the "researchers".
Pass Xiaojin Couty to Rilong County at the foot of Siguniang Mountain.
Day 7 (B, L, )
Mt. Siguniang
Siguniang Mountain is reputed as the Oriental Alps. We will visit Changping Gully and Double Bridge Gully on foot or by horse.
Day 8 (B, L, )
Mt. Siguniang / Chengdu
Cross over Mt. Balang (4230 m elevation), to Wolong Gaint Panda Natural Reserve, visit Gaint Panda Museum, pass Minjiang Valley and Dujiangyan Irrigation System, back to Chengdu.
Day 9 (B, )
Chengdu / Depart
Transfer to airport for flight to next destination.