How to book a tour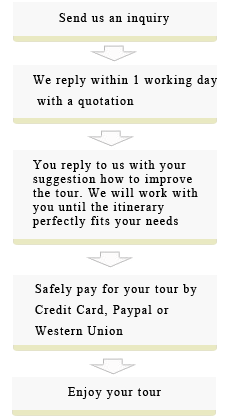 Leshan Giant Buddha & Mt. Emei Visit
Tour code: CD003
Duration: 2 days
Route: Chengdu, Leshan, Mount Emei
Attractions: Leshan Giant Buddha, Mt.Emei,Baoguo temple,Wannian Temple,the Golden Submit
Itinerary:
Day 1 ( L, )
Chengdu / Leshan / Mt. Emei
Drive to Leshan (100km, 1.5 hours ride), boat ride tour the Leshan Giant Buddha. Then be driven to visit Mt.Emei and Baoguo temple with lunch((Private vehicle and guide).
Leshan Buddha is the largest Buddha in the world, about 71 meters high. It started to be carved in 713 A.D and finished 90 years later.
Mt.Emei is one of the most famous mountains for Buddhism in China. It has many tmples and beautiful scenery.
Day 2 (B, L, )
Emei / Chengdu
Tour Wannian Temple and the Golden Submit with lunch. In the afternoon drive back to Chengdu(2.5 hours drive).
Wannian Temple of 10000 Years is the oldest surviving Emei monastery. Its dedicated to the man on the white elephant, the Bodhisattva Puxian, who is the protector of the mountain.
At the Golden Summit with a altitude of 3077 m, this magnificent temple is as far as most hikers make it. The Golden Summit Temple has been entirely rebuilt since being gutted by a fire several years ago. Covered with glazed tiles and surrounded by white marble balustrades, the temple now occupies 1695 square meters. The original temple had a bronze-coated roof, which how it got the name of Jinding.
Meal Code:   B-Western breakfast in the hotel        L-Chinese lunch in local restaurant
                      D-Chinese Dinner in local restaurant