How to book a tour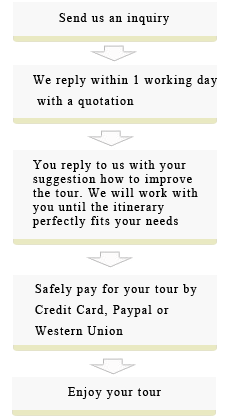 Panda Base and Dujiangyan tour
Tour code: CD004
Duration: 4 days
Route: Chengdu, Dujiangyan
Attractions: Panda Base, Dujiangyan
Itinerary:
Morning tour to Panda Sanitary, Dujiangyan Irrigation System with lunch(Private vehicle and guide).
Chengdu Research Base of Giant Panda Breeding is situated on the Axe Hill 10 kilometers from the north suburb of Chengdu City. It covers an area of 600 acres. The environment here is exquisitely designed; the air is refreshing with the bamboo growing luxuriantly and flocks of wild birds flying around. There are 43 giant pandas and tens of specious animals such as red pandas and black-necked cranes. The Giant Panda Museum, Butterfly Exhibit Hall and Vertebrae Animal Exhibit are located in the Base.
The Dujiangyan Irrigation System lies on the Ming River in the northwest of Dujiangyan City. It was built over 2200 years ago around 250B.C.under the direction of LingBing, the governor of the Shu Prefecture of the Qin State.
The Dujiangyan Irrigation System is famed for its fantastic view as well as its history and civilization of long standing.
The Ming River running across the vast Chengdu Plain used to do harm to the people down the river in the ancient times. After making careful survey on the spot Li Bing had a channel cut through Mt.Yulei in the west of the city, thus a man-made river came into existence. In the middle of the Min River, a dyke was built to divide the river into two parts: the inner river and the outer river.

Service ends.