How to book a tour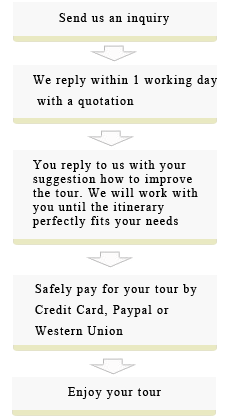 Chengdu and Chongqing Trip
Tour code: CD007
Duration: 5 days
Route: Chengdu, Leshan, Zigong, Dazu, Chongqing
Attractions: Leshan Grand Buddha,Salt-mining Museum,Dinosaur Museum,Dazu Grottoes,General Stiwell Museum
Itinerary:
Day 1 (L, )
Arrive / Chengdu
Transfer via: Flight-can be arranged by us, not included in this quotation
Arrive at Chengdu. Be met & be transferred to your hotel. Free at leisure for the rest of the day.

Day 2 (B, L, )
Chengdu / Leshan / Zigong
Be transferred to Leshan, visit Leshan Buddha. In the afternoon, be tranferred to Zigong.


Leshan Buddha
is the largest Buddha in the world, about 71 meters high. It started to be carved in 713 A.D and finished 90 years later.
Day 3 (B, L, )
Zigong / Dazu
In the morning, visit the Dinosaur Museum and Salt-mining. In the afterbnoon, be tranferred to Dazu.


Salt-mining Museum: Zigong was called the Salt Capital of China in the past and now there is still a museum to show how people make salt in traditional way.


Dinosaur Museum
: Zigong is also a place with plenty of dinosaur relics. In Dinosaur Museum the reliquiaes of different kinds of giant animals are exhibited.
Day 4 (B, L, )
Dazu / Chongqing
In the morning, visit Dazu Grotttoes. In the afternoon, drive to Chongqing.


Dazu Grottoes were carved during the times of the Tang 618-907), Five Dynasties (907-960), and Song (960-1279) dynasties. The two major sites are Beishan (North Hill) and Baodingshan (Baoding Hill). The Beishan sculptures include over 10,000 figures of Buddhas and Bodhisattvas in various poses; they are famous for their elegance and exquisiteness.
Day 5 (B, L, )
Chongqing / Departure
Transfer via: Flight-can be arranged by us, not included in this quotation
Full day tours to Erling Park, People's Hall of Chongqing, Chongqing Zoo, Stiwell Musuem and Ciqikou ancient town; take Yangtze River Cable Car.
Erling Park: Where tourists can take a bird's eye view of the whole city of Chongqing.


Chongqing Zoo: The Giant pandas & Lesser pandas & Golden hair monkeys & South China Tigers can be seen.


Stiwell Musuem: It is a museum to commemorate General Stiwell during The World War Two.


Ciqikou: It is an old town with traditional Chongqing style buildings,tea houses,and Sichuan Opera houses.