How to book a tour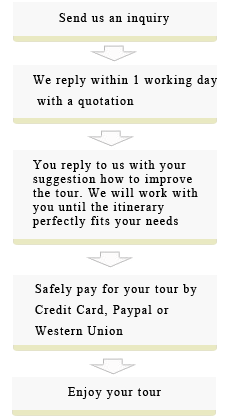 Mount Qingcheng Discovery
Tour code: chengdu 008
Duration: 4 days
Route: Chengdu, Dujiangyan, Mount Qingcheng
Attractions: Wuhouci Temple, Du Fu Cottage, Dujiangyan, Mount Qingcheng
Itinerary:
Day 1
Arrive / Chengdu
Transfer via: not included in this quotation
On arrival at Chengdu, our guide will meet you and tranfer you to downtown. Then you have the option of visiting Wuhouci Temple and Du Fu Cottage.
Wuhou Temple: It is a place to commemorate Zhuge Kongming in Three Kingdoms around 2 and 3 centuries.Zhuge Kongming is a avatar in China.
Dufu Thatched Cottage: The poet Du Fu lived in Chengdu for years. In the west suburbs of the city, he built for himself a thatched hut and wrote a lot of poems here. The poet's thatched cottage is an important scenic and historic spot in Chengdu.
Day 2 (B, L, )
After your breakfast in the hotel, you will head out for an one hour drive to Dujiang yan, which locates approximately 50km from the city. Sightseeings includes Dragon Subduing, Erwang Temple and Anlan Bridge, also known as the Wife & Husband bridge. In the afternoon, you will be tranferred to Mt. Qingcheng and take cable car up to the mountain to have a bird-view of the city.
Dujiangyan: It is an Irrigation System,which was built over 2250 years ago to irrigate the Chengdu Basin,and it has been cultivated the whole basin for more than 2000 years already.
Mt. Qingcheng: Located about 15 kilometers from the southeast of Dujiangyan City, Sichuan Province, Mt. Qingcheng lies amidst the Western Mountains covered with pure white snow, and dominates the fertile land of Chengdu.
Day 3 (B, L, )
Chengdu
Visit Chengdu Research Base of Giant Panda Breeding in the early morning.  you will have number of oppotunity to take photos with the Giant Pandas and lesser Pandas. After lunch, you will be transferred to visit Sanxingdui in Guanghan.
Chengdu Research Base of Giant Panda Breeding : It is situated on the Axe Hill 10 kilometers from the north suburb of Chengdu City. It covers an area of 600 acres. The environment here is exquisitely designed; the air is refreshing with the bamboo growing luxuriantly and flocks of wild birds flying around.
Sanxingdui ruins in Guanghan: A ruined city with a history of over 3000 years. The relics at Sanxingdui are precious cultural heritage of mankind, which contain rich historical, cultural and scientific value. Thousands of pieces of invaluable relics such as bronze ware, jade ware, gold ware, pottery, and bone ware unearthed rewpectively from the Sanxingdui Ruins, the No. 1 sacrificial pit, and No.2 sacrificial pit of the Shang Dynasty (cir. 16th-11th century B.C.).
Day 4 (B, )
Chengdu / Departure
Transfer via: Flight on your own arrangement
Your guide will transfer you to the airport and see you off.
Service End.