How to book a tour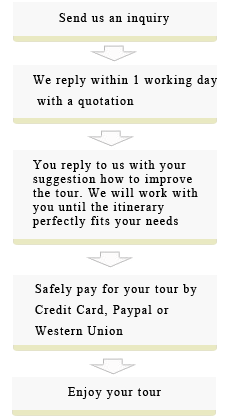 Xitang and Wuzhen Discovery
Tour code: ZJ002
Duration: 4 days
Route: Hangzhou, Xitang, Wuzhen
Attractions: West Lake, Feilai Peak, Six Harmony Pagoda, Xitang, Wuzhen
Itinerary:
Day 1 Arrive / Hangzhou ( L, )
Transfer via: by air (own arrangment)
Arrive at Hangzhou in the morning. Be met at the airport and transfer to hotel. Have city tours to West Lake, Lingyin Temple, Feilai Peak, Six Harmonies Pagoda & Tea Plantation Farm.
West Lake: Marco Polo called Hangzhou the most enchanting city in all the world. This is most evident in the West Lake area--the effective. Lying on the west edge of Hangzhou city, West Lake is the symbol of Hangzhou as well as one of the most beautiful sights in China.
Feilai Peak: situated in front of Lingyin Temple, is famous for its more than 470 stone carvings of Buddhist figures, which dated back from the 10th to 14th centuries.
Lingyin Temple: Lingyin Temple is one of the ten most famous ancient Buddhist temples in China. It also houses various Buddhist literature and treasures.
Six Harmony Pagoda: Highly erected by the Qiantang River and to the south of the West Lake, it is a perfect symbol of brick-and-wood structure built in the ancient China. It was first built in 970 AD in the Northern Song dynasty (960-1127). The name "six harmonies" comes from the six Buddhist ordinances, meaning "harmonies of the heaven, earth, east, west, south and north".
Day 2 Hangzhou (B, L, )
Drive to Xitang in Jiashan County.
Xitang is attractive because of the easygoing lifestyle that local residents have followed for thousands of years. It is not a bustling place, people in the town live ordinary, peaceful lives.
Many of the shops and houses in Xitang are built on the riversides. There are a total of 122 lanes, long and short, wide and narrow. The lanes are paved with stone planks, polished by the feet of pedestrians as well as hundreds of years of weathering. Together with the black-tiled houses along the roads, the polished stone planks bear witness to the town's long history.
Day 3 Hangzhou (B, L, )
Drive to Wuzhen(about 50 minutes). Return to Hangzhou in the afternoon.
Wuzhen: A 1200-year town, with its black tiled, tung oil painted timber framework houses, that contrast sharply with its white walls and gray flagging, brings to mind a Chinese ink and wash painting.
Day 4 Hangzhou / Exit (B, )
Transfer via: by air (own arrangment)
Be transferred to the airport for the flight to next destionation.

Service Ends.