How to book a tour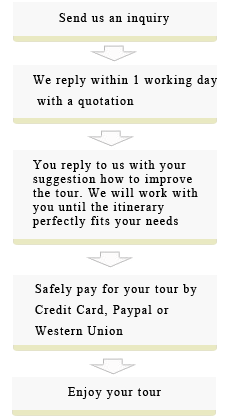 Travel in Guangxi
Tour code: NN 012
Duration: 8 days
Route: Guilin, Yangshuo, Guilin, Nanning, Beihai, Nanning
Attractions: Elephant Trunk Hill, Reed Flute Cave, Li River Cruise, Qingxiu Hill, Fishing Village,Silver Long Beach,Weizhou Island
Itinerary:
Day 1 
Arrival / Guilin
Pick up at the railway station or airport and transfer to Hotel. If the time is possible, visit the Elephant Trunk Hill & Reed Flute Cave.
Recommend you to enjoy the evening cruise through Li River, Fir lake, Bayan Lake and Peach River, which was part of the ancient moat surrounding Guilin. Tickets are arranged by your tour guide, and be escorted to the Pier. Own arrangement for the rest of evening.
Day 2 (B, L, )
Guilin / Yangshuo
After the breakfast you take bus to Dock. You will start your Li River Cruise from here. The total Journey is around 60 Kilometers and takes 4 hours. On the way you will see the most beautiful landscapes and pass throw the local villages.
Later this day you will arrive at Yangshuo. You can also choose to stay in the town, stroll around the local market, witness the daily activities of local society. Or you might enjoy a class for Chinese Tachi in Yangshuo at sunset.

Yangshuo, the natural scenery features unique karst hills, crystal water, exquisite stones and intricate caves as well as a cultural historic heritage and folks of diverse customs.   
At night, have fun on the West Street, don't drink too much to miss tomorrow's program.  Or you can go to watch the envening show - Impression Liu Sanjie. The Cormorant Bird catching fish show at night is also something new (optional). 
Day 3 (B, L, )
Yangshuo/Guilin
From 6:30 to 9:00 am, cycle for 2 hours from Yangshuo to Aishan Village in the early morning, you will arrive at the Licun village and then you continue you bike ride on the trails to Yangshuo. After a hot shower in the hotel, you will be transfer by company vehicle to take bamboo rafting for two hours on Yulong River through limestone mountains and trails.
Climbing up the Moon Hill , strolling around rice fields, by doing this way, you may understand what is the Chinese farmer's life and how big change happened in China in the passed 15 years.
Later today you will be transferred to Guilin.
Day 4(B,  )
Guilin/Nanning
Transfer via: morning train--soft seat
Transfer to railway station for your morning train to Nanning, upon arrival in Nanning, be met & transferred to hotel. Visit the Qingxiu Hill in the afternoon.
Day 5 (B, L, )
Nanning/Beihai
At 8:00am, depart from Nanning Railway Station. Have lunch in fisherman's family. In the afternoon, tour Nanwan Fishing Village ( National Forest Park). Then visit Guandi Temple, Pearl Garden (display for getting pearl from shell), Sanpo Temple, Sea corroded scene(The Seas Run Dry and The Rocks crumble),Grand Round Angle Blockhouse, Wave-seeing Platform.
Then you can dig snailsand oysters, pick shells and crabs on the beach. About 18:30pm, have supper in the fisherman's family and accommodation at fisherman's house. At night, we can arrange some activities, such as capturing sea horse and barbecuing, it all depends.
 
Day 6 (B, L, )
Beihai
After breafast, at about 8:30am, go out to the sea by boat for halieutics. At 11:00, come back the harbor and have lunch in the fisherman's family.

Day 7 (B, L, )
Beihai/Silver Long Beach 
visit the NO.1 beach in the world---Silver Long Beach, the Northern Bay Plaza, the base of cultured pearls and Dried Seafood Market. 
 
Day 8 (B, L, )
Beihai/Weizhou Island/Nanning
A sea cruise to Weizhou Island ,the largest and younggest volcano island in China. Enroute you can enjoy the broadness of the sea.
Upon arrival, why not take our recommended optional diving(for your personal expenses). Then make your wishes to God at Mazhu Temple, taste the holy spring ,have a great view of the "Dishui Danping", and tour Gothic Catholicism Church. Back to Beihai then to Nanning.
Service ends.