How to book a tour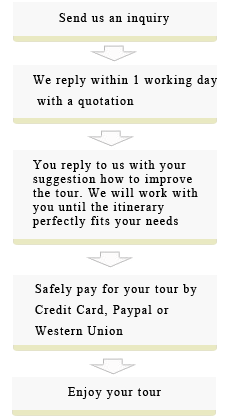 Nanning to Guilin Holiday
Tour code: NN014
Duration: 8 days
Route: Nanning, Hezhou, Zhaoping, Yangshuo, Guilin
Attractions: QingXiu Hill Scenic Area,Lingfeng Hill, the Ziyun Cave, Gupo Hill National Park, Luhua Hotspring,the ancient town of Huangyao, Li River, Moon Hill, Reed Flute Cave, Seven Star Park, Elephant Trunk Hill
Itinerary:
Day 1 (L)
Arrival/Nanning
Transfer via: own arrangement
Upon arrival, be met and transferred to hotel. Visit NanNing QingXiu Hill Scenic Area, Dragon and Elephant Pagoda, Historical Relic Garden.
Nanning is the capital of the Guangxi Zhuang Autonomous Region. Its dishes belong to the Guangdong Cuisine, mainly featuring light taste, but stressing freshness, delicacy, crispiness, smoothness and nutrition, varying with the seasons. There are many restaurants offering local special foods in Nanning, such as game dishes, seafood and ethnic food. The ethnic restaurants serve dozens of dishes including the Dong uttered Tea. Zhuang Glutinous Rice Cake and Yao Bamboo Chicken, etc.
QingXiu Hill Scenic Area: Standing 5 km. in the outskirts southeast of Nanning, is known for its grandeur and beauty as well as well as its evergreen pines. The White Cloud Temple built in the Song Dynasty, the Longxiang Pagoda built in the Ming Dynasty were destroyed due to the war. In 1985 the city government renovated Tianci Lake, Longxiang pagoda, Dongquan Spring, Phoenix Pagoda and other 20 scenic spots.
Day 2 (B, L, )
Nanning
A day trip to the scenic Longhu Shan (Dragon Tiger Mountain), a natural reserve area which is home to thousands of plant and animal species. Here your guide will lead you on a light trail leading to a stunning waterfalls where you can have a sheep skin boat ride on the peaceful lake.
Day 3 (B,L)
Nanning/Hezhou
Bus drive to Hezhou City and visit Lingfeng Hill and Lingfeng Square.
Hezhou city is the east of the Guangxi Zhuang Autonomous Rigien, at the skirk of the southwest China,in the joint of Guangdong,Hongkong ad Macau.The city covers an area of 11855 square kilometers,in charge of Babu,Zhongshan,Zhaoping and Fuchuan Yao Autonomous county.It has 2.06 milion people,inhabited with over 20 nationnalities including Han,Yao,Zhuang,Miao,Hui,Dong and Yi.
Hezhou has more than 2000 history.It boasts many culture relics and historical sites,as well as beautiful natural scenery and simple folk custom.

Day 4 (B,L)
Hezhou/Zhaoping
Visit the Ziyun Cave, Gupo Hill National Park, Luhua Hotspring, Yu Stone Forest, and then go to zhaoping.

Day 5 (B,L)
Zhaoping/Yangshuo
Tour to the ancient town of Huangyao, transfer to hotel in Yangshuo.
Arrive Yangshuo at night, a typical tour town, a fine example of how China can mix history with comfort. The town's well-preserved dwellings, winding cobblestone alleys and narrow streams have made herself Mecca for most backpackers in China. Indeed, Yangshuo has a vibe that makes you want to sip tea by a small stream and soak in the sun as you ponder the patina of a stately weathered old house.
Leisure on your own for the rest of the night. You might have fun on the West Street, don't drink too much to miss tomorrow's program. Or you can go to watch the envening show - Impression Liu Sanjie. The Cormorant Bird catching fish show at night is also something new (optional).
Day 6 (B, L, )
Yangshuo
After having the breakfast be driven to the Xingping dock from where you will begin your hiking tour. Walk along Li River to Yangdi. Along the way you witness scenes that transported us back in time; farmers walking their Water Buffalo along the rivers edge, men casting their hand sew nets out onto the water in hopes of catching fish, simple watercraft made of bamboo poles tied together. Every turn of the boat brought an endless procession of the dramatic rock formations.
After about 4.5 hours, Yangdi, a small fishing village, comes into sight. Your hiking tour finishs here. Transfer to Yangshuo by local bus to Yangshuo.
Day 7(B, L, )
Yangshuo / Guilin
From 6:30 to 9:00 am, cycle for 2 hours from Yangshuo to Aishan Village in the early morning, you will arrive at the Licun village and then you continue you bike ride on the trails to Yangshuo. After a hot shower in the hotel, you will be transfer by company vehicle to take bamboo rafting for two hours on Yulong River through limestone mountains and trails.
Climbing up the Moon Hill, strolling around rice fields, by doing this way, you may understand what is the Chinese farmer's life and how big change happened in China in the passed 15 years.
Later of the day, drive back to Guilin.
Day 8(B, L, )
Guilin/Departure
Enjoy the full day city highlight, visit the Elephan Trunk Hill, Seven Star Park, Reed Flute Cave. Transfer to airport for your flight to next destination.
Visit the Reed Flute Cave. Aside ten minutes drive (half hour bike ride) from downtown, the cave is one of the largest known examples of what each tropical karst cone conceals within it. The script writers and set designers for Star Trek would have a field day in this cavernous underground stalactite/stalagmite maze-style theater. The dropping water is rich and the dripstones are not only in various types but also in big size, displaying a wonderful cave world. This cave was called "The Art Gallery of Mother Nature". Colored fluorescent lights which cast shadows and illuminate shapes of imaginary animals, fruits and vegetables complete the unworldly effect.
Following with Elephant Trunk Hill. It is located on the west bank of the Li River by a small branch called Peach blossom River, and resembles a huge elephant standing on the bank of the river, sucking up water with its long trunk. The trunk is particularly striking and lifelike when viewed either nearby or afar. A circular foot cave called Shui Yue Dong (Moon-In-the Water Cave) separates the trunk and the body. A 3-story Ming Dynasty (1368-1644 A.D) brick pagoda rises from the top of hill.
Service ends.