How to book a tour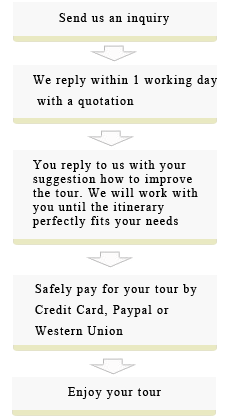 Beijing Classical Tour
Tour code: PBJ01
Duration: 4 days
Route: Beijing
Attractions: Forbidden City, Tian An Men Square, Summer Palace, Kungfu show
Itinerary:
Day 1 Beijing
Transfer via: by air-own arrangement
Program: Upon arrival in the airport, pickup by our English speaking tour guide and drive to hotel
Day 2 Beijing (B,L,D)
Program: Forbidden City, Tian An Men Square, Summer Palace, Kungfu show

Forbidden City: The largest imperial palace in China during the Ming and Qing dynasties with a history of around 600 years, where 24 emperors used to live and ruled their world.

TianAnMen Square, the symbolical heart of China and gathering place for the masses. It is the biggest public square in the world, which can hold one million people. Having a free walk there, imagining the great historic events of the 20th century took place there. You will also see legendary landmarks including the Great Hall of the People and the towering 125 foot granite obelisk, Monument to the Peoples Heroes, honoring those who died in revolution.

The Summer Palace: It is the largest and best-preserved royal garden in China with a history of over 800 years. With its cool features - water, gardens and hills, it was the palace of choice for summer vacationing emperors and Dowager Empresses.

Story of Legend of Gongfu: Thousands of years ago in a mysterious land called The Middle Kingdom, many legends were created, martial arts was one of them, made famous by its name Gong Fu. In an ancient temple perched high on the side of a mountain we encounter a little boy, through practicing Zen Buddhism and gong fu, our little monk eventually grows and finally reaches the sacred goal of enlightenment.
Day 3 Beijing (B,L)
Program: Badaling Great Wall, Ming Tomb (changling), Sacred Way

Badaling Great Wall: one best preserved section of the Great Wall. Great Wall is one of the most remarkable feats of mankind, built over 2,000 years ago. You will be able to climb and walk on it, admiring the splendid mountains scenery.

Ming Tomb: The tombs are located about 50 kilometres to the north of Beijing. They are scattered over a basin approximately 40 square kilometres in area, screened by mountains on three sides and open to the Beijing Plain in the south.

Sacred Way: It means "the way of the spirit". The body of the dead was carried over the route at funeral ceremony. It is 7 kilometres long, from the Memorial Arch to the gate of the main tomb.
Day 4 Beijing (B)
Transfer via: by air-own arrangement
Program: Temple of Heaven, Transfer to airport for your flight to next destination

Temple of Heaven: It was built in the 15th century, a sacred site for ancient Beijing, where the emperor,where the ancient emperors used to pray for the God's bless of the whole nation.
Service End