How to book a tour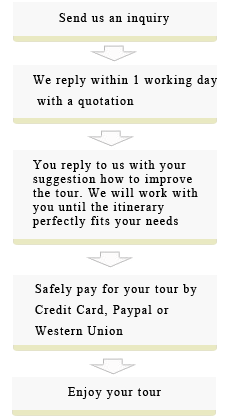 Putuoshan Buddhsm Island
Tour code: SH013
Duration: 7 days
Route: Shanghai, Hangzhou, Putuoshan
Attractions: Fayu Temple, Purple Bamboo Forest, South Sea Guanying, Puji Temple, the Hundred Step Sandla, West Lake, Oriental Pearl Tower
Itinerary:
Day 1
Arrival  /  Shanghai
Transfer via:  own arrangement
Upon your arrival at Shanghai, met by our English speaking guide and transferred to the hotel.
Day 2 (B,  L,  D  )
Shanghai   
Morning tour to Yu Garden, Yu Market, lunch at a local restaurant in the Old Town; after lunch visit to the Bund, then free time in the Nanjing Pedestrian Road. Dinner at a local restaurant followed by visit to the Oriental TV Tower.
Yu Garden
. This delightfully restored labyrinth of tiny specialty shops, tea and snack houses centered around a Ming - dynasty mandarin Suzhou-style garden is a fascinating spot to people-watch over a pot of tea, to shop for unique souvenirs and to get a feel for Old Shanghai. It is well worth a meander through the Yu Garden, which has many scenic courtyards decorated with baroque rockery, pools and flora, all connected by corridors and passageways.
Visit
the Bund
. Have a stroll along the waterfront to experience the smells, sights and sounds of the old "Wall Street" in Shanghai. Banks, trading houses, residences, hotels and clubs all had a view of bustling Huangpu River traffic as they shared in the city's rising and falling fortunes. Then walking along the famous shopping street-Nanjing Road. It is said that shopping in Shanghai is the most varied and rewarding in China.
Shanghai Oriental Pearl TV Tower
. With its 468 meters high (1,536 feet), the tower is the third tallest TV and radio tower in the world as well as the tallest structure in Asia. It is the best place to have a birds-eye-view of Shanghai City. With its unique and amazing design, it has become the new landmark of Shanghai and a big magnet for tourists.
Day 3 (B,  L,    )
Shanghai  /  Hangzhou
Transfer via:  by train ( soft seat ) 
Continue your visit in Shanghai to the Jade Buddha Temple and Shanghai Museum. Catch noon/early afternoon train (about 2.5 hours) to Hangzhou. Start your visit there to the Mausoleum of General Yue Fei and the China Tea Museum.
Jade Buddha Temple
: It is one of the main touristic highlights in Shanghai and it's also one of the most active temples in China. If you're lucky, you can watch the monks serving a cermony in a side room.
Shanghai Museum: The biggest museum in China, with a collection of over 120,000 pieces of Chinese art & cultural relics. The museum is especially famous for its treasures of bronzes, ceramics, paintings, and calligraphy.
Day 4 (B,  L,    )
Hangzhou   
A whole day's visit to the West Lake, the Traditional Chinese Medicine Museum and the Lingyin Temple.
Marco Polo called Hangzhou the most enchanting city in all the world. This is most evident in the
West Lake
area--the effective, if not geographic, center of Hangzhou. Hills embrace the lake on three sides; the city proper lies to the east. Ancient Chinese people praised the West Lake area as a land of intoxicating beauty.
Lingyin temple
: commonly translated as "Temple of the Soul's Retreat" is one of the largest and wealthiest temples in China. It was originally founded in 326 AD, but has been rebuilt no less than sixteen times since then.
Day 5 (B,  L,    )
Hangzhou  /  Putuoshan
Transfer via:  by bus/boat 
Today you are going to catch a morning express bus to Shenjiamen Dock. The bus trip is about 4 hours. At the dock, you will be met by our English speaking guide and then take 15 minutes' boat ride to Putuoshan. Check into your hotel.
Day 6 (B,  L,    )
Putuoshan   
Enjoy a whole day's tour in Putuoshan to the Fayu Temple, Purple Bamboo Forest, South Sea Guanying, Puji Temple and the Hundred Step Sandland. You will use a private car but when you visit the places of interest, the car might need to carry other people.  Kindly remind you that only Chinese style breakfast will be served in Putuoshan.
Day 7 (B,      )
Putuoshan / Hangzhou  /  Depart
Transfer via:  boat / bus 
Check out in the morning. Catch boat to Shenjiamen Dock where you will catch an express bus back to Hangzhou. Own arrangement from Hangzhou city to the airport for flying to next destination.
Service ends.