How to book a tour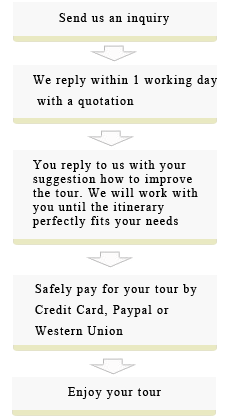 Shanghai tour and Yantze River Upstream Cruise
Tour code: SH009
Duration: 9 days
Route: Shanghai, Yichang, Yangtze Cruise, Chongqing
Attractions: The Bund,Shangcheng Acrobatics,Shanghai Museum,Yu Garden, Yangtze Cruise
Itinerary:
Day 1 ( L, )
Arrive /  Shanghai
Be pick up from airport to hotel, Visit Yu Garden, Yu Market, lunch at a local restaurant in the Old Town; after lunch visit to the Bund, then free time in the Nanjing Pedestrian Road.
Yu Garden: It is characteristic of the architectural style of the Ming Dynasty and it used to be a private garden with 400 years' history. Infront of the garden, there is a market called Yu Market.
The Bund: the former foreign settlement, ranged along with imposing buildings of the colonial period. 
Day 9   (B,  L,  D  )
Shanghai  
Morning tour to Shanghai Museum; after lunch, free at leisure for the remainder of the afternoon. Recommend to visit to the Xiang Yang Market is suggested for the free time.   Enjoy Shanghai Acrobats at night. 
Visit the
Shanghai Museum
: The biggest museum in China, with a collection of over 120,000 pieces of Chinese art & cultural relics. The museum is especially famous for its treasures of bronzes, ceramics, paintings, and calligraphy.

Shanghai Acrobatics: There are performances by one of Shanghais best acrobatic troupes here most nights. The auditorium can seat 1,000 people, and the show starts at 7:30pm.
Day 3 (B,L)
Shanghai / Yichang
transfer via: Flight-our arrangement
Free time in the morning.   Be transferred to the airport for your flight and fly to Yichang and on arrival Yichang, be transferred to the pier and board the ship to Chongqing.
Day 4(B,L, D)
Yangtze
Shore excursion to Three Gorges Dam Site(0830-1030).
Three Gorges Dam, the largest water conservancy project ever undertaken by man and it has been a dream for several generations of Chinese people. The construction of the dam formally began in 1994. The body of the dam was completed in 2003, and the whole construction will be competed in 2009. It will be 2,335 meters long, 185 meters high, 18 meters wide on the top and 130 meters wide at the bottom. Since Sep 1st, 2005, the first 1000 tourists each day get access to the top of the dam and enjoy different kinds of photo opportunities.
Day 5 (B,L,D)
Shore excursion to Shennong Stream(0800-1230).
Shennong Stream is another tributary of the Yangtze River, and its fast-flowing, crystal clear water runs southwards through deep gorges. The stream races past large and small karst caves, flocks of swallows, sheer cliffs, deep gorges, waterfalls, three-colored springs, rapids, the ancient plank path, a suspended coffin in the cliff, groups of ancient tombs and marvelous karst formations.
Day 6 (B,L,D)
Shore excurison to Fengdu Ghost City or New Wanxian County(0830-1030).
Fengdu is where the devil lives, according to Chinese legend. They say that spirits go to heaven, and evil goes to Fengdu. The town is overlooked by Ming Shan Hill, home of Tianzi, the King of the Dead. The whole place has an eerie feel to it with deserted streets, tower blocks, empty shops and banks. The only people here are those who make a living from visiting cruise boats.
Day 7 (B,L)
Yangtze / Chongqing / Shanghai
Arrives in Chongqing at 0900.  A day visit to Goose Neck Park, Ciqikou Old Town, Panda Room in Chongqing Zoo. You will be transferred to the airport in time for your flight and fly to Shanghai.
Goose Neck Park: Where tourists can take a bird's eye view of the whole city of Chongqing.
Ciqikou Old Town: street of Hundreds' Years old. Take a walk to Ciqikou old street where you can see local shops, old wooden houses, old pier, tea houses, local Sichuan street performance and so on.
Panda House in Chongqing Zoo: Where you can see Giant pandas.
Day 8(B,)
Shanghai
Leisure today, you may go shopping along the Nanjing road and huaihai road.
Day 9 (B)
Shanghai / Depart
Transfer via: Flight on your own arrangement.

You will be transferred to the airport in time for your flight to the next destionation.

Service ends.