How to book a tour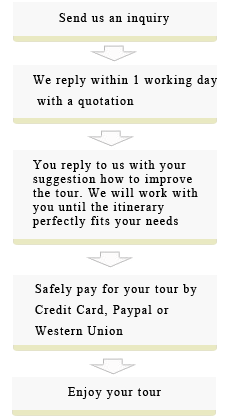 4 Days Shanghai and Suzhou
Tour code: shanghai 010
Duration: 4 days
Route: Shanghai
Attractions: The Bund, Nanjing Road, Shanghai Museum, Yu Yuan Garden, Grand Canal, The No.1 Silk Factory, Suzhou
Itinerary:
Day 1 ( )
Arrive / Shanghai
Arrive at Shanghai. Be met & have city tours to the bund, Nanjing Road.
The Bund: This spot in the city is home to a myriad of European-styled buildings that face the Huangpu River. Home to chic restaurants and shopping opportunities, the Bund is a must-see site when visiting Shanghai. Architectural styles include gothic, baroque, Romanesque, and renaissance.
Nanjing Road: the busiest shopping street in Shanghai.
Day 2 (B, L, )
Shanghai
Visit Oriental Pearl Tower,Shanghai Museum & Yu Yuan Garden. Enjoy Shangcheng Acrobatic Show in the evening.
Shanghai Museum: The biggest museum in China, with a collection of over 120,000 pieces of Chinese art & cultural relics. The museumis especially famous for its treasures of bronzes, ceramics, paintings, and calligraphy.
Yu Garden: It is characteristic of the architectural style of the Ming Dynasty and it used to be a private garden with 400 years' history. Infront of the garden, there is a market called Yu Market.
Our evening begins by attending an astounding performance by the Shanghai Acrobatics School & Troupe. They have won hundreds of gold medals in different international acrobatics competitions, and are beloved by their countrymen for the incredible feats of skill and grace. If you have never experienced a world-class acrobatics show, this is a must-see event. After the show, you will travel by luxury coach to catch a view of Shanghai at night.
Day 3 (B, L, )
Shanghai / Suzhou
Take morning train for one hour to Suzhou. Have a cruise on the Grand Canal, then visit the Pan Gate, Lingering Garden,The No.1 Silk Factory.
Grand Canal: The Grand Canal ranks alongside the Great Wall of China as the country's greatest engineering achievement and it is the longest man-made waterway in world.Cruising on the Canal,you can see the local people's life.
Pan Gate: Pan Gate is an ancient city gate with land and water entrances. One gate with land and water entrances was quite typical in ancient China. Pan Gate is the only one left.
Lingering Garden: Shouzhou is famouse for its the Gardens. Lingering Garden is an elaborate succession of small gardens. Linging in the garden you would marver this unique architecture art.
The No.1 Silk Factory: Suzhou is also famous for its silk production. In the factory you can see how the silk is processed from the silk worm to the final woven cloth.
Day 4 (B, )
Suzhou / Shanghai / Exit
In the morning, be transferred to the airport for the flight to next destination.

Service Ends.