How to book a tour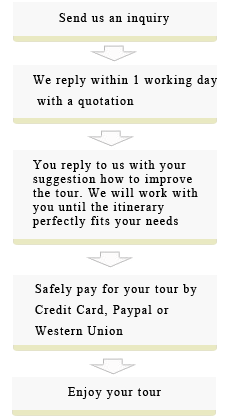 Suzhou Gardens and Grand Canal Tour
Tour code: SZ002
Duration: 2 days
Route: Suzhou
Attractions: Grand Canal, Pan Gate, Lingering Garden, Humble Administrator's Garden, etc
Itinerary:
Day 1 ( L, )
Shanghai / Suzhou
Arrive at Suzhou. Have a cruise on the Grand Canal, then visit the Pan Gate, Lingering Garden,The No.1 Silk Factory.
Grand Canal: The Grand Canal ranks alongside the Great Wall of China as the country's greatest engineering achievement and it is the longest man-made waterway in world.Cruising on the Canal,you can see the local people's life.
Pan Gate: Pan Gate is an ancient city gate with land and water entrances. One gate with land and water entrances was quite typical in ancient China. Pan Gate is the only one left.
Lingering Garden: Shouzhou is famouse for its the Gardens. Lingering Garden is an elaborate succession of small gardens. Linging in the garden you would marver this unique architecture art.
The No.1 Silk Factory: Suzhou is also famous for its silk production. In the factory you can see how the silk is processed from the silk worm to the final woven cloth.
Day 2 (B, L, )
Suzhou / Shanghai
Take a 30 minutes Rickshaw ride then visit Ouyang,Hanshan Temple,& Humble Administrator's Garden.   Transfer to train station for evening train to Shanghai
Rickshaw ride: Sitting on the rickshaw through the old town of Suzhou, you will see the small Hutongs,the open markets and the local people's life.
Ouyuan: one of the famous garden in Suzhou, where you can see the local opera under the Pavilion of the Ou garden.
Hanshan Temple: It used to be one of ten most famous temples in China where there are a lot of cultural relics.
Humble Administrator's Garden: The garden is most representative of Chinese classical gardens in the Ming dynasty. Focused on a central pond with pavilions, terraces, chambers, and towers located nearby, the garden is divided into three parts: the eastern, middle and western parts.
Service Ends.