How to book a tour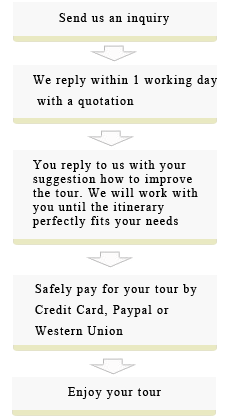 4 days Xi'an Tour
Tour code: Xi'an 008
Duration: 4 days
Route: Xi'an
Attractions: Shaanxi Historical Museum, Xi'an City Wall, Terra-Cotta Warriors, Big Wild Goose Pagoda, Xiangyang Museum, Qianling Mausoleum, Maoling Mausoleum
Itinerary:
Day 1 Arrive / Xi'an ( L, )
Transfer via: by air(own arrangment)
Arrive at Xi'an. Be met & transferred to your hotel. Have city tours to the Provincial Museum and the Ancient City Wall.
Shaanxi Historical Museum: The Shaanxi Historical Museum, a large-scale modern State-class museum, is situated at the western side of the "Wild Goose Pagoda" in Xi'an City. It covers an area of about 70,000 square meters, the architectural area of which is 55,000 odd square meters. It was completed on June 20, 1991 and open to the public.
Xi'an City Wall: Xi'an City Wall is a major landmark, and iis the best preserved, as well as the oldest and largest of the city defence systems in China. Bikes can be rented to ride along the top of the wall for about RMB20/hour.
Day 2  Xi'an  (B, L, )

Visit the Terra-cotta Warriors and Horses, the Bell Tower and the Wild Goose Pagoda.

Terra-Cotta Warriors: The greatest archaeological findings of the century: the army of terra-cotta warriors and the bronze chariots entombed in vast underground vaults at emperor Qin's tomb.

Big Wild Goose Pagoda: The pagoda where widely renowned Master Xuanzang (Monk Tripitaka) stored his classics brought from India.
Day 3 Xi'an  (B, L, )
Visit the Xianyang Museum, the Qianling Mausoleum and the Maoling Mausoleum.
The X'anyang Museum: A medium-sized museum that collects and exhibits relics of the Qin and the Han dynasties and studies the history of the two dynasties.
The Qianling Mausoleum: Built in 684 AD, the mausoleum is the joint tomb of Emperor Tang Gaozong (Li Zhi, 628 A.D.-683 A.D.) and Empress Wu Zetian (624 A.D.-705 A.D.), the only Empress in Chinese history.
The Maoling Mausoleum: The tomb of Emperor Wudi (140 B.C. - 87 B.C.) - Liu Che, the fifth emperor of the Western Han.
Day 4  Xi'an / Exit  (B, )
Transfer via: by air(own arrangment)
Free at leisure until to be transferred to the airport for the flight to the next destination.

Service Ends.