How to book a tour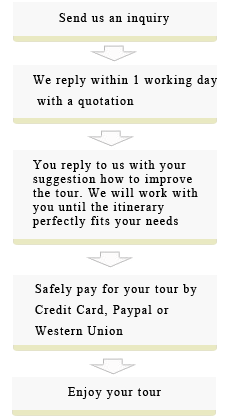 Lijiang, Zhongdian and Mount Meili Voyage
Tour code: YN010
Duration: 8 days
Route: Kunming, Lijiang, Zhongdian, Deqin, Mount Meili, Zhongdian
Attractions: Meili Snow Mountain, Mingyong Ice Glacier, Mt Kawakarpo, napahai, Songzanlin Monastery,Tiger Leaping Gorge,Jade Dragon Snow Mountain, Mingyong Ice Glacier, Mt Kawakarpo, Stone Forest
Itinerary:
Day 1 ( L, )
Arrival / Kunming
Upon arrival at Kunming, transfer to hotel. Visit old town of Kunming, Jinma Gateway, Jinri Tower.
Day 2 (B, L, )
Kunming / Lijiang
Transfer via: Morning flight
Morning flight to Lijiang. Visit Ganhaizhi Lake, Cable car to Jade Dragon Snow Mountain, Ice Glacier Park. After lunch, visit Yuhu Village, Dayan old town, Square Street, Lion Hill.
The Jade Dragon Snow Mountain: The mountain has 13 peaks of which the highest is 18000 feet above sea level. It is a treasure of wild plants and rare animals.
The Lijiang ancient town: The town was built in the late song dynasty and the early Yuan dynasty and was listed by the UNESCO on the list of the world's major cultural heritages in 1997.Shangrila tour & travel,China
Day 3 (B, L, )
Lijiang / Shigu / Zhongdian
Drive for 2 hours (76 km) to Shigu Town, where Yantze River makes a U-turn to flow toward northeast. People call this section the "first bend of the Yangtze River. Visit the Memorial Hall of the Long March fo the Red Army.
Drive for 1 hour (35 km) to Visit Tiger Leaping Gorge, the gorge is 17 kilometers long with a drop of 213 meters. After lunch, continue to drive for 3 hours (127 km) to Zhongdian.
Day 4 (B, L, )
Zhongdian / Deqin
Drive for 10 hours (186 km) to Deqen, stop at Napa Lake, Benzhilan Old Ferry, Shangqiaotou Tibetan Village, Songzhulin Monastery, Baimang Snow Mountain.
The Napahai Nature Reserve, at an altitude of 3,266 meters above sea level, is located 8 kilometers northwest of the county seat of Zhongdian. It has the largest grassland in Zhongdian, surrounded by mountains on three sides.
Songzanlin Monastery, or 'Little Potala' as it is affectionately known, is a spiritual place that invites you to discover the mystery and traditions of Tibetan Buddhism.
Arrive at Shenping Town, Deqin county in the late afternoon.
Day 5 (B, L, )
Deqen / Meili Snow Mountain / Deqen
Drive for 3 hours (67 km) to Mt. Meili, stop at Feilai Temple. Arrive at Mingyong Village for lunch.
After lunch, ride horse for 8 km to Mingyong Ice Glacier which is under the foot of Mt Kawakarpo, arrive at Taizi Temple where is 4759 m altitude.
Ride back to the village and drive to Shenping Town.
Day 6 (B, L, )
Deqen / Zhongdian
Drive to Zhongdian, enjoy tremendous view of mountains, lakes and forest.
Day 7 (B, L, )
Zhongdian / Kunming
Transfer via: Morning flight
Take morning flight to Kunming, visit Stone Forest and Qixing Village of Sani People.
Stone Forest: 90km south of Kunming. Due to a process of weathering and erosion, nature has created an art gallery of stone sculpture here.
Day 8 (B, )
Kunming / Depart
Free time in the morning, recommend you to visit Bird and Flower Market. Transfer to airport for flight to next destination.
Service end.
Notice: The raining season in Zhongdian, Tiger Leaping Gorge, Lujiang and Lijiang is from late May to early September, roads might be block by mountain slide and falling rocks. The best traveling time for our trekking tour is from October to April.
In case of bad weather condition or road difficulties, the original itinerary which has been confirmed by us might has to be changed accordingly by our local tour guide, or even the whole trip could be cancelled eventually. Please trust the judgement of our expienced tour guide, they are the expert and have escored trekking trips for years.