How to book a tour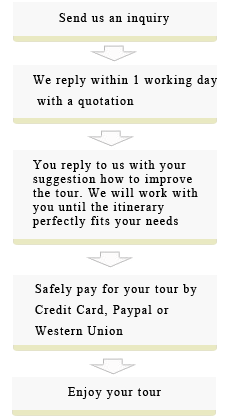 Yunnan Paradise
Tour code: YN011
Duration: 6 days
Route: Kunming, Dali, Lijiang
Attractions: Jade Dragon Snow Mountain,Mu Prince Mansion,Lashi Lake,Shigu,old town of Lijiang
Itinerary:
Day 1 (D)
Arrive / Kunming
Upon arrival, be met & transferred to your hotel in Stone Forest, about 90 km from Downtown Kunming, enjoy the beautiful surroundings while the crowd of visitors do not disturb you.

Stone Forest is located in Shilin County, 89 kilometers from Kunming. The area, covering 350 square kilometers, is the highest karst terrain in the world and a national scenic area in China.
Day 2 (B, L )
Kunming / Dali
Transfer via: air
Transfer to Dali by air. Visit Dali old town, the Ancient Wall Gate, have lunch at an old traditional restaurant called "Plum Well".
Three Pagodas: are located northwest of Dali at the foot Cangshan Mountains. With Qianxun Pagoda, completed in 876 during the Tang dynasty (618-907AD).
Day 3 (B, L, )
Dali / Lijiang
Morning visit of a small Catholic church in old town of Dali, drive to Xizhou Market & the typical living house of Bai Minority. enjoy the tea ceremony of Bai Ethnic, take as more pictures of the colorful costumes of Bai Ethics, listening to their stories...
Drive to Lijiang after lunch. Visit the Old town of Lijiang, escorted tour to Square Street.
Day 4 (B, L, )
Lijiang
Full day visit the Jade Dragon Snow Mountain, Yak Meadow, the old house of Joseph Rock, who stayed in Lijiang for 27 years from 1922 to 1949.

Jade Dragon Snow Mountain: The mountain has 13 peaks of which the highest is 18000 feet above sea level. It is a treasure of wild plants and rare animals.
Day 5 (B, L, )
Lijiang
Drive to Qiaotou, visit Upper Tiger Leaping Gorge. In the afternoon, back to Lijiang and visit Mufu Prince Mansion.
Tiger Leaping Gorge: one of the world's four great gorges - is located in Hutiaoxia Town in Zhongdian County,is honored as one of the deepest and most marvelous gorges on the globe.
Day 6 (B, )
Lijiang / Depart
Free time in the morning. Transfer to ariport for return flight to next destination.
Service end.
Meals as mentioned in the itinerary
"B" stands for American breakfast, "L" for Chinese Lunch in local restaurant. "D" for Chinese dinner in local restaurant. "D" for Chinese dinner in local restaurant.
Remarks: In some remote areas, only Chinese breakfast is best availble.