How to book a tour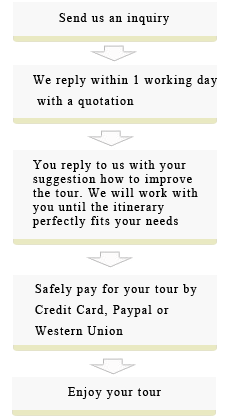 Northwestern Yunnan Minority Ethnic Culture tour
Tour code: YN 084
Duration: 20 days
Route: Kunming, Zhongdian, Deqin, Yongbao Village, Yongxitong Village, Zisutong Village, Qunatong Village, Duotong Village, Maylishi Village, Zhongdian, Lijiang
Attractions: Native ethnic villages of Tibetans, Kampas, Dongzhulin Monastery, Zisutong, White Horse Snow Mountain, etc.
Itinerary:
Day 1
Arrival/Kunming
Upon arrival, be met & transferred to your hotel in Stone Forest, about 90 km from Downtown Kunming, enjoy the beautiful surroundings while the crowd of visitors do not disturb you. The night of Stone forest is so unique, which you can not find in other place of the world.
Stone Forest is located in Shilin County, 89 kilometers from Kunming. The area, covering 350 square kilometers, is the highest karst terrain in the world and a national scenic area.

Day 2 (B, L, D )
Kunming-Zhongdian by air-Deqin by coach
Take a morning flight to Zhongdian, then drive 186 km to Deqin, visit Dongzhulin Monastery, sightseeing in White Horse Snow Mountain which is a National natural Reserve.

Day 3 (B, L, D )
Deqi Town-Yangza Village by coach-Yongbao Village trekking
Drive 50 km from Deqin to Yangza village(1960m), hire horses and horsemen to take your backpack and all the supplies. Then trek for 3 hours to Yongbao village where elevation is about 2480m. Camping.

Day 4 (B, L, D )
Yongbao Village-Yongxitong Village trekking
Trek about 8 hours from Yongbao to Yongxitong(3100m). Camping.

Day 5 (B, L, D )
Yongxitong Village visit
Linger in Yongxitong Village for one day. This is a very pretty place where you can pick many edible mushrooms for your lunch and dinner. Camping.

Day 6 (B, L, D )
Yongxitong Village-Zisutong Village trekking
Trekking about 8 hours from Yongxitong to Zisutong, cross the Douge Rila Mt. Pass where elevation is about 4487m. Camping.

Day 7 (B, L, D )
Zisutong Village-Qunatong Village
Trekking about 8 hours from Zisutong to Qunatong which is a highland pasture in Chayu county of Tibet. Tigers often be sighted by local Tibetans. Camping.

Day 8 (B, L, D )
Qunatong Village-Abing Village trekking
Trek about 8 hours from Qunatong to Abing village, see many Mani stones and a special spot with a lot of bowls and old clothes because every passerby will leave one bowl and one old clothes to this place. the Tibetan legend said by doing so one can enjoy a never-hungry and never-cold next life. Abing is a village nearly none of western traveler has been and the villagers are very simple and hospitable. Stay in Tibetan house.

Day 9 (B, L, D )
Abing Village visit
Linger in Abing village. The local Tibetan families. Enjoy a bonfire party at night in the square of the local elementary school. Stay in Tibetan house.

Day 10 (B, L, D )
Abing Village-Qizhu trekking
Trekking about 6 hours from Abing village to Qizhu. Many ancient stone carves on the cliff, one of the stones is a must-touch for all the pilgrims, sightseeing at the confluence of Nu River and Abing River, enjoy a hot spring bath by the side of the river where elevation is about 1780m. If you like fishing, here is a good place.

Day 11 (B, L, D )
Qizhu Village-Chanan Village trekking
Trek about 7 hours from Qizhu to Chanan village where elevation is 2500m. Stay in Tibetan house.

Day 12 (B, L, D )
Chanan Village-Gebu Village trekking
Trekking about 2 hours from Chanan to Gebu and have one day rest. Stay in Tibetan house.

Day 13 (B, L, D )
Gebu Village-Ladilazan Village trekking
Trek about 9 hours from Gebu to Ladilazan. Cross the Gebula sacred mountain pass where the elevation is about 4100m. Camping.

Day 14 (B, L, D )
Ladilazan Village-Shulaka Village trekking
Trek about 3 hours from Ladilazan to Shulaka where elevation is about 3090m. Camping.

Day 15 (B, L, D )
Shulaka Village-Soula Pass-Duotong Village trekking
Trek about 9 hours from Shulaka to Soula mountain pass where the elevation is about 4815m, then trek down and camp in Duotong which is 3200m high. Camping.

Day 16 (B, L, D )
Duotong Village-Maylishi Village trekking-Deqin by coach
Trek about 5 hours from Duotong to Maylishi village, where elevation is 2150m, then drive 58 km back to Deqin.

Day 17 (B, L, D )
Deqin Village-Zhongdian by coach
Drive 186 km from Deqin to Zhongdian. Sightseeing at Napa Lake which is a nature reserve for bird. Upon arrival in Zhongdian, visit the Songzanlin Monastery which is the largest Gelu style temple in Yunnan with more than 800 monks and 3 living buddhas.
Songzanlin Monastery, or 'Little Potala' as it is affectionately known, is a spiritual place that invites you to discover the mystery and traditions of Tibetan Buddhism. Songzanlin Monastery is the Yellow Hat School of Tibetan Buddhism is practiced. This large center, base for 1200 monks before the destruction of Tibet in the 1950s, is experiencing a significant rebirth.

Day 18 (B, L, D )
Zhongdian -Lijiang
Drive 200 km from Zhongdian to Lijiang, on the way, sightseeing in the Tiger-leaping Gorge which is 3000 m deep yet only 30 m across at the narrowest part.
The Tiger Leaping Gorge: one of the world's four great gorges - is located in Hutiaoxia Town in Zhongdian County, is honored as one of the deepest and most marvelous gorges on the globe.

Day 19 (B, L, D )
Lijiang
Full day visit the Jade Dragon Snow Mountain, Yak Meadow, the old house of Joseph Rock, who stayed in Lijiang for 27 years from 1922 to 1949.
The Jade Dragon Snow Mountain: The mountain has 13 peaks of which the highest is 18000 feet above sea level. It is a treasure of wild plants and rare animals.
Day 20 (B, )
Lijiang/Departure
Transfer to the airport and fly to the next destination.

Service ends.
Notice:
Regarding the raining season in Zhongdian, Tiger Leaping Gorge, Lujiang and Lijiang, the best traveling time for our trekking & camping tour is from May, June, September & October.
In case of bad weather condition or road difficulties, the original itinerary which has been confirmed by us might has to be changed accordingly by our local tour guide, or even the whole trip could be cancelled eventually. Please trust the judgement of our expienced tour guide, they are the expert and have escored trekking trips for years.
Meal Code:
B-Western breakfast in the hotel
L-Chinese lunch in local restaurant
D-Chinese Dinner in local restaurant