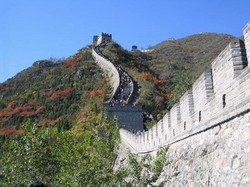 As early as the 13th century, the area of Juyongguan (also called Juyong Pass) was known for its beauty, and was listed as one of the "Eight Great Sights of Yanjing". The name "Juyong" first appeared in the huainanzi , a philosophical work from the second century BC, in the following annotation: "The Juyong Pass is one of the nine great passes in the country."
 To the west of the Juyong Pass is a white marble structure called the Cloud Platform (Yuntai), which was built in 1345 to serve as the foundation for a set of three stone pagodas built at the command of Emperor Huizong, the last ruler of the Yuan Dynasty. At this time, the structure was known as the Pagoda Bridge (Guojieta). After the pagodas were destroyed some time around the fall of the Yuan Dynasty (1368), the Great Peace Temple ( Tai' ansi ) was built to replace them. But the temple was burned down in 1702 during the reign of Emperor kangxi.
 The Cloud Platform is pierced by a hexagonal arched gateway. Both the ceiling and facades are covered with Buddhist carvings, including depictions of the Four Heavenly Kings in relief executed with great detail and expressiveness. Texts of Dharani sutras and an inscription entitled "A Record of Charitable and Pious Pagoda Building" carved in six languages -- Lantsha (Nepalese Sanskirt), Tibetan, Phagspa Mongolian, Uygur, Western Xia and Han -- are valuable for the study of philology. The inner roof of the arch is covered with mandala patterns and Buddha images surrounded by flowers, all fine examples of Yuan Dynasty craftsmanship.
 The Juyong Pass area contains many relics associated with popular legends. One of these relics, dating back to the Northern Song Dynasty, is the Five Heroes Temple, which commemorates the ostensible digging of the gully by five men of unusual strength. The fanciful name of the Playing the Zither Gorge (Tanqinxia) is derived from the clear and melodious sounds of the river flowing through it.